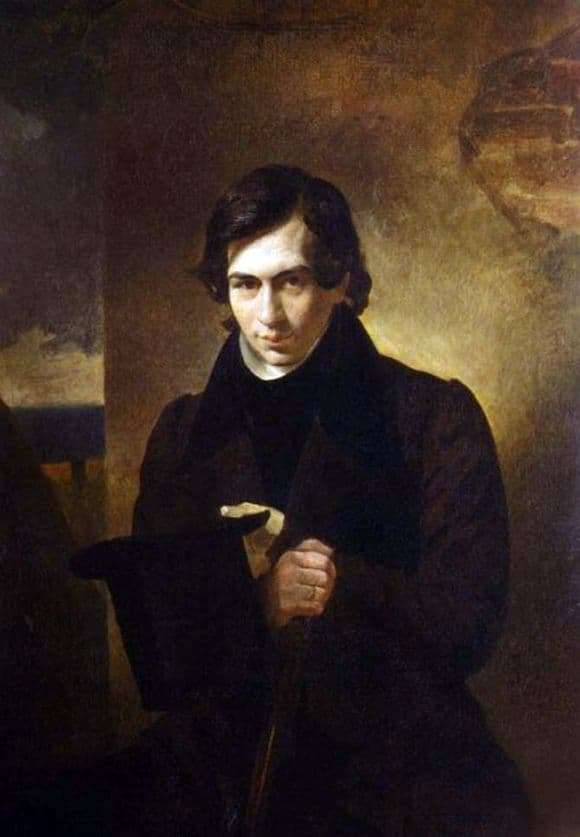 The Russian literary critic and famous playwright, as well as the publisher of the periodical journal "Art newspaper" – Nestor Vasilyevich Kukolnik is depicted by Karl Bryullov in a chamber full-length portrait in the year of his arrival from Italy to his homeland, where he studied craftsmanship. Therefore, it is very noticeable Italian school of painting, the manner of writing a picture.
Mikhail Glinka introduced the artist and writer, after which they became close friends, the portrait written by Briullov reflects his warm attitude towards the portrait. The background of the picture is the modest outdoor interior of the Puppeteer's house, where the literary circle of creative people so often gathered. However, you can immediately notice that the background is not emphasized, it is made in dark, but at the same time, warm colors. The dark line of the horizon is sharply divided by the sky and the sea – the symbols of the era of romanticism.
A modest but controversial personality is reflected in the portrait by Karl Bryullov. His cunning squint gives shades of seriousness and concentration. Being a creative person, the writer Puppeteer caught the lyrics in the air; therefore, his view may seem somewhat skeptical and strict.
At the same time, we see the hero – romance, his dreamy gaze is directed somewhere into his own thoughts, looks portrayed as if through the viewer. Kukolnik's static posture, a certain stiffness of the composition is "unloaded" with a soft light emanating from the center of the picture. The glare of this warm lighting put the accents on the hands, face. Puppeteer's hands confidently squeeze the cane and cylinder.
Some "positive" posturing can be seen in this ambiguous image of the writer. The puppeteer is forced to put on a mask of a rejected romantic, misunderstood by the big world of art, looking frowningly as if inviting, invites him into the wonderful world of the corridors of art workshops. The image of the artist's closest friend, thought out to the smallest detail, reflects a warm and reverent attitude to the person being portrayed.