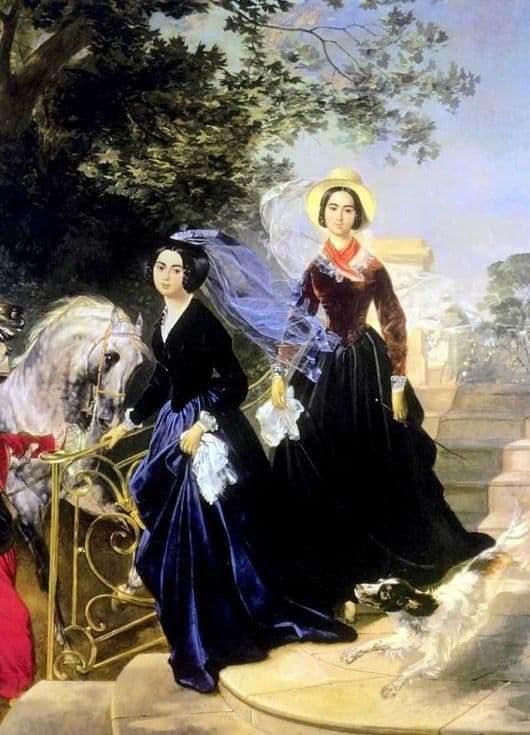 Karl Bryullov – an outstanding Russian portrait painter, famous for his special manner of writing. He always approached his work with the soul, did portraits not for customers, but for people to whom he had a special location. Bryullov was a virtuoso kind, so he tried not to take official orders for high-ranking persons, because they bound the artist in his spiritual impulses and undertakings.
In 1839, the artist accepted the order from Athanasius Shishmarev, a retired staff captain and a successful horse breeder. Bryullov was supposed to write a portrait of two charming sisters Shishmaryov, Alexander and Olga. For the author, this task was too simple, so he again violated the framework of the traditional portrait. He tried to reduce the order for a portrait to a genre sketch, which the ladies really liked. On the canvas, the girls look very beautiful, blowing warmth, joy and enthusiasm from them. Bryullov accurately conveyed the characters of the heroines, subtly hinting to the viewer that, although the sisters are alike, they are very different, this is noticeable in clothes, postures, facial expressions.
Alexander's older sister looks more agile and alive. She swiftly walks ahead, as if glaring at the viewers from the portrait. Her figure successfully emphasizes the purple Amazon, which gives a good taste of the heroine. The veil of a calm lilac shade of beauty is in harmony with Alexandra's dark hair.
Her younger sister Olga successfully contrasts with her. Although the girls have very similar figures, with thin waists and faces with bright features, we see how different they are – Alexandra and Olga. Olga looks much more restrained than her determined sister, she seems so shy and calm, but strong in kind. These conclusions suggest themselves when you pay attention to the whip, which the girl squeezed in her palm while walking down the stairs.
The color solution of the picture is of no less interest: the dense left side echoes the light right side. This decision allowed the artist to successfully emphasize the movement of the figures on the canvas. The harmonious compositional solution was found by the artist in pencil sketches. Bryullov specifically used the ladder in the picture to emphasize the motive of the main characters. The girls are not easy part of the portrait, they are in a hurry for a horse ride, and the master was there then to capture the moment.