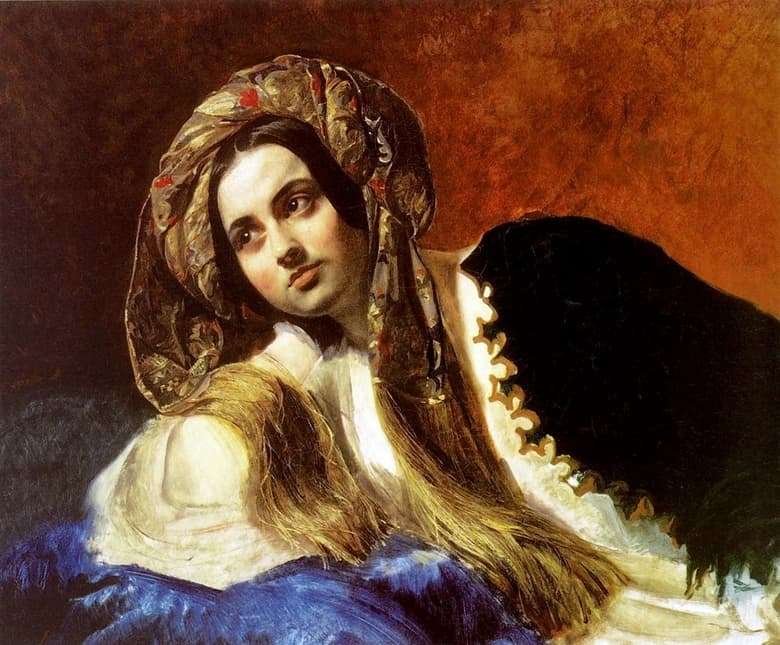 The portrait, written by the artist, expresses the level of his skill and ability to feel and convey nature. The portraits of Karl Bryullov are distinguished not only by their high level of technology, but also by the spectrum of emotions, the soul embedded in the canvas.
The girl depicted on the canvas is so expressive and beautiful that the background behind her absolutely did not need to dim. The bright background of the ocher color does not "hide" the girl at all, it attracts attention in an original and involuntary manner. The beautiful white face of the eastern beauty is decorated with a light blush on the cheeks, and the light gently gleams on the forehead. The girl's dark beautiful eyes captivate, and the light flickers playfully in her eyes. The look of the main character is directed somewhere to the side; it becomes clear that her thoughts are somewhere in the clouds. The girl's clear eyes convey her inner world; it becomes clear that she is kind, clean, and open.
Smoothly curved girlish lips are slightly stretched in a smile, which indicates a good mood and calm. Light face is framed by dark hair – such a beautiful contrast attracts every artist. The hair of the woman is collected in a national headdress which hints at the origin of the oriental beauty. The golden fabric contains red flowers in harmony with the bright background of the image. Threads hanging from the edges of the headdress casually fall on the beautiful woman's shoulder and arm, propping up her head. A white, almost sparkling dress creates a contrast with a black cape containing a golden ornament. The blue sheets, on which the heroine is lying, enrich the color palette of the overall composition, create diversity and brightness.
The image transmitted by the artist is not copied directly from nature, but is the embodiment of those warm feelings that the author feels after staying in Turkey. Tenderness, sensuality, splendor of oriental beauty – all this was skillfully conveyed by the artist in one of his best canvases.