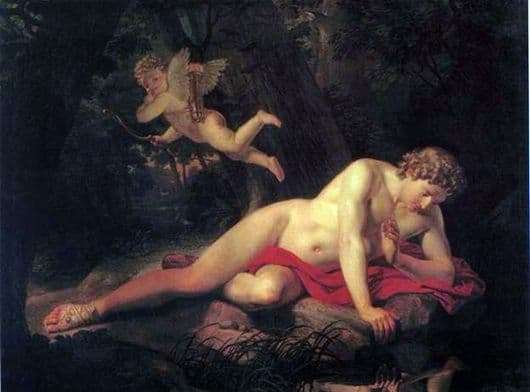 Karl Bryullov writes another masterpiece for his audience. At this time, such was the painting "Narcissus looking into the water." The background to this picture is the story of a young man named Narcissus. It was still a young son of one of the river gods, according to legend, it was said that the young man had the opportunity to live a long and happy life, but only under one condition: he should not see his reflection.
Once on a hunt, by chance, Narcissus saw his reflection, and he was so fascinated by his beauty that he died of hunger at the same place, and the people who later came to pick up his body did not find anything, except for Narcissus. The story itself is no less beautiful than the canvas, the master was able with incredible subtlety to convey that tenderness and those fascinating emotions with which the young man admires his reflection.
The artist, knowingly portrayed in the background of Cupid, most likely, he appeared due to the fact that he felt an unimaginable feeling of love, even to himself. His handiwork, even passionate love for his own reflection. If we turn to further creations of the master, then we can see that this particular canvas was the beginning of his new period.
In this picture you can see too academic and classical writing, which is too subject to patterns. But despite this, the picture has several tones of originality and originality. By this picture, the artist skillfully conveys unity with nature, in principle, like most of the author's works.
The artist was able to breathe into his painting an incredible sense of naturalness and beauty with each stroke. Given the subtext of this canvas, it is safe to say that this picture may be one of the best works of the master.