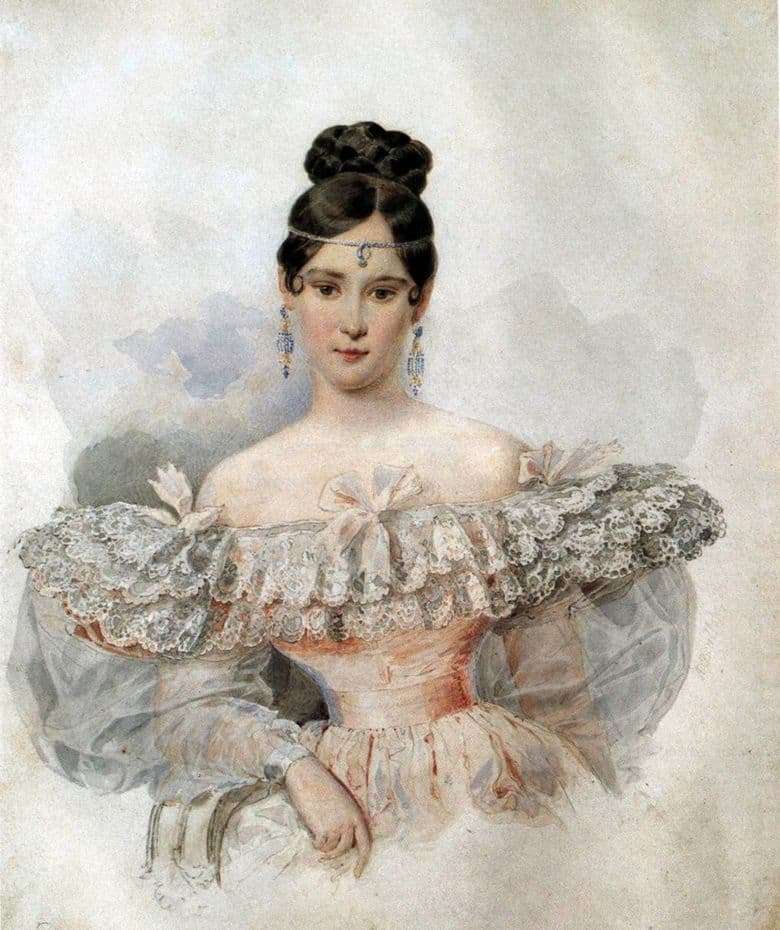 1831-832; watercolor paper; 21.1×17; Museum of A. S. Pushkin.
The portrait of Natalya Nikolaevna Pushkina (nee Goncharova) by Alexander Pavlovich Bryullov's brush is perhaps one of the most famous images of this captivating socialite. For a long time, this picture was kept in the family of the writer, and only in the twentieth century was transferred to the museum of his memory, where it can be seen today.
The composition of this airy watercolor is simple: Natalia Nikolaevna is depicted in a white ball gown just below the belt. No details of the background distract from the contemplation of her figure, the background of the model are only curls of air or clouds, only emphasizing its unearthly charm.
White, light gray and pale cream colors predominate; they are only slightly diluted with individual bright details, like long earrings with blue stones in the beauty's ears. All the more noticeable are dark hair and piercing brown eyes of Pushkina. Her curls are arranged in a high hairstyle, which allows you to freely admire the beautiful sketch of the face, slender neck and white full shoulders.
The portrait is a married woman, but she seems young, playful as a girl. In a sly look noticeable mockery, leprosy. As Alexander Sergeevich Pushkin himself wrote about this image in a letter to his spouse: "I kiss your portrait, which seems to be something to blame." In fact, both the pose, and the inclination of the head, and the facial expression of the model, beautifully conveyed by Briullov, speak to the viewer not about power dignity. This young coquette seems ready now to fly away in a waltz with a suitable gentleman.