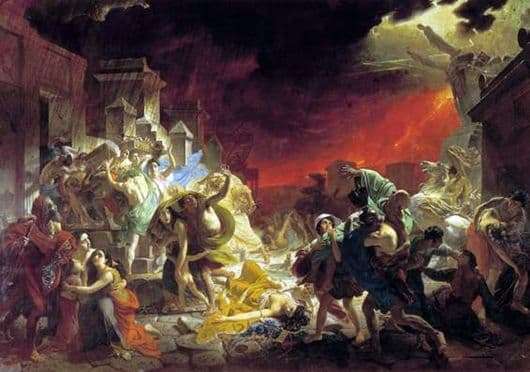 The trip of the young Russian artist Karl Bryullov to Italy in 1827 became significant not only for the master himself, but also for the whole world painting. Drinking impressions of what he saw on the site of the once thriving city of Pompeii destroyed by Vesuvius, the young author creates a masterpiece of world fine art, a grand canvas "The Last Day of Pompeii".
The picture was created within 3 years. In this case, Bryullov brought himself to exhaustion. Finally, his design was realized. The picture unites the world of impending danger and how people behave differently in the face of death.
Here young Pliny persuades the fallen mother to the ground to rise and go away from danger. Next, the sons who carry the old father, trying to save him in a safe place. Immediately a man who raised his hand to heaven, trying to protect his family. Next to him is a kneeling woman-mother with children who are looking for her protection and help.
Here is a Christian priest with divine attributes. He is calm and fearless in the face of impending danger. The servant of God looks at the heavens blazing with devouring fire, crumbling under the tremendous power of statues of former idols.
In the depths of the canvas there is a pagan priest who, in fear, is trying to escape and carry with him the sacred altar. In this opposition, the idea of the significance of the Christian faith, which comes to replace the pagan, is traced.
In the background, on the left, Bryullov draws a crowd of fugitives, among whom stands the figure of the artist who saves the objects of his craft. In this artist, the author portrayed himself.
In the foreground of the canvas is a woman lying on the ground and a baby mourning her. The symbolism of this image consists in changing one time by another.
In the wonderful canvas of Karl Bryullov, the viewer finds answers to eternal questions about the purpose of man, about his role in the world and history.