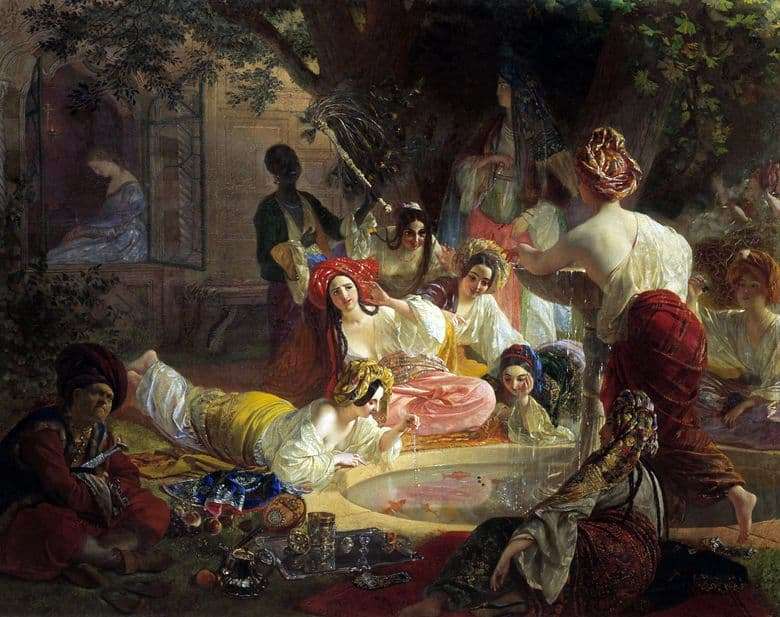 The great Russian artist Karl Bryullov was a big fan of Pushkin's genius. Grieving over the death of the poet, the artist regretted that he could not capture it in life. Having visited the Crimea many times, Bryullov chose the famous "The Fountain of Bakhchisarai" for a hand-made monument to a departed genius. Work on the picture, which began a few years after the death of Pushkin, was carried out for a very long time – almost eleven years. There are many sketches and sketches for the "Bakhchisarai Fountain" in Briullov's diaries and albums. In 1849, the Fountain of Bakhchisarai was acquired by Grand Duchess Maria Nikolaevna. Now the watercolor painting is kept in the Moscow museum of A. S. Pushkin.
By itself, the fountain on the territory of the Khan's palace in Bakhchisarai was already overgrown with legends and legends. It was built near the mausoleum of one of the concubines of Khan Kyrym-Gerei.
The fountain in the picture is almost invisible. In fact, abandoning the theme of the confrontation of the wives of Khan, praised by Pushkin, the artist depicts women enjoying life – they luxuriously recline in the shade of a tree, enjoying the sweet fruit. Gorgeous silk clothes emphasize the carelessness, serenity of the existence of concubines. The reminders of the involuntary content here are the guards, silent, standing in the corners. However, they only guard the fun, concubines do not pay any attention to them, they are passionate about the fun and pleasures of life. Bryullov masterfully depicted the serene, romanticism-filled life of oriental beauties.