Home

⇒
📌Brullov Karl

⇒
Description of the painting by Karl Pavlovich Bryullov "Portrait of Count A. A. Perovsky"
Description of the painting by Karl Pavlovich Bryullov "Portrait of Count A. A. Perovsky"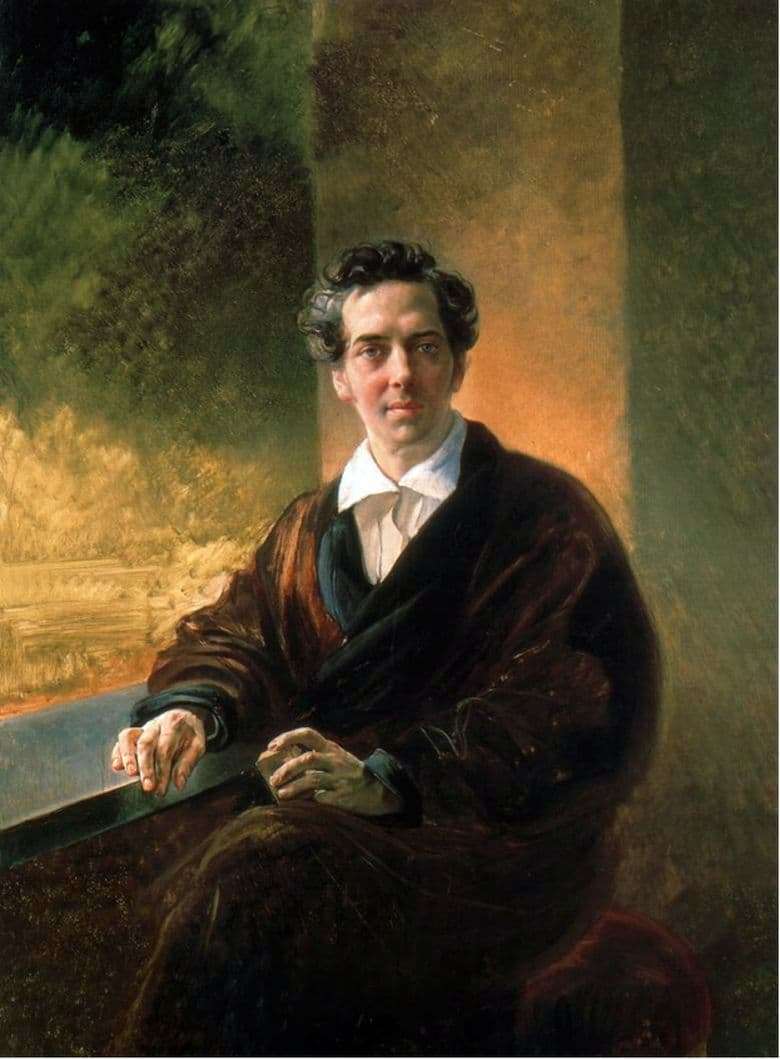 The painting "Portrait of Count A. A. Perovsky" was painted in oil on canvas in 1836. The work is not finished.
Genre – portrait.
The painting depicts the writer Count Alexei Alekseevich Perovsky, whom viewers know more under the pseudonym Antony Pogorelsky. Many are well known for his fairy tale "The Black Chicken, or Underground People." The portrait sits at the window in home clothes. This work is strikingly different from the other works of K. P. Bryullov – most of his images are filled with pompous triumph and pomp.
The writer's figure, face and clothes are illuminated by the light pouring from the window, which seems to be indifferent, warms the face of the hero, makes it fragile and almost transparent. The face is beautifully crafted, and it has been crafted thanks to a magnificent cut-off pattern. The light emphasizes the blush on the cheeks, paints the bumps on the forehead,
the shape of the nose, lips and chin. The left ear is almost crystal. The eyes are amazed with endless kindness, attention and love. Black with gray hair, curly hair in disarray.
They hit the hands of the writer. One hand, soft, beautiful, illuminated by the sun. The second hid in the shadows, it is terrible and resembles the hand of an old man. Dark hard light draws a blue, bony, wiry brush with long irregular nails. Probably, the artist planted the writer in front of the sun precisely with the goal of hiding his age, brightening and softening his face. And left the other hand the way it is, thereby underlining the tragedy of the changes that occur to a person.
On the face and figure there is no bright colors. Blush on the cheeks, lips are made of soft soft colors. But the background of the window opening, the landscape opening from it, is saturated with defiantly thick, bright paint. This is what the author emphasizes the tenderness and soulfulness of the writer. A snow-white, almost glowing shirt complements the impression.
The work is stored in the State Russian Museum, St. Petersburg.





(
2
votes, average:
3.50
out of 5)
Description of the painting by Karl Pavlovich Bryullov "Portrait of Count A. A. Perovsky"