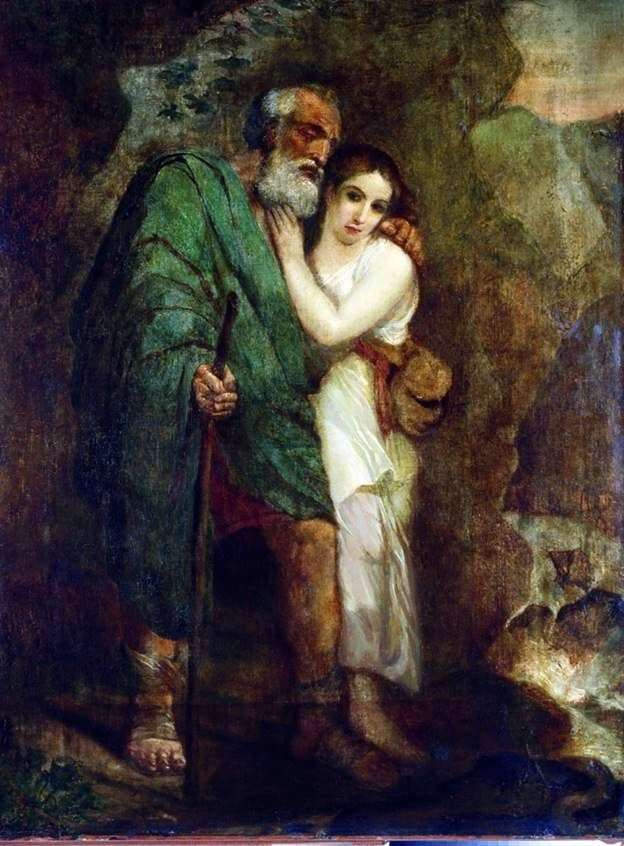 Painter, watercolorist, representative of the academic direction. He painted portraits and landscapes, but fame came to him as the creator of monumental historical paintings. In Bryullov's paintings, the sense of the beauty of the world gives way to the tragedy and conflict of life, to strong passions.
The fate of many people comes to the fore. The canvases are filled with drama of action, combined with the plastic perfection of the figures and the use of the romantic principle of illumination. The painting of paintings on the ancient themes "Oedipus and Antigone" and "The Repentance of Polynique" became for the artist a pass to study in Italy.
Building a composition of the painting "Oedipus and Antigone" is simple and at the same time brilliant. Written on a mythological theme, by request, however, it bears the imprint of the artist's personality. He managed to combine academic, realistic manner of writing and romantic attention to the fate of the characters. Two figures stand on the background of impregnable and harsh rocks. Tired, but still strong old man and young girl. They rely and at the same time support each other. The striking contrast between the dark clothes and the face of Oedipus and the light robes of Antigone create a solid image.
Oedipus's face is spelled out in more detail, fatigue and tenderness are visible in him. He tries not so much to rely on the girl as to embrace and protect. In his hand, the staff, as an additional support in the changing fate. Rocks protect their backs, create the background and are, at the same time, a symbol of the stability and stability of the world. The plasticity of the Antigone figure is emphasized by the highlights of the light.
The picture of the great master has become a synthesis of directions of academicism and late romanticism.