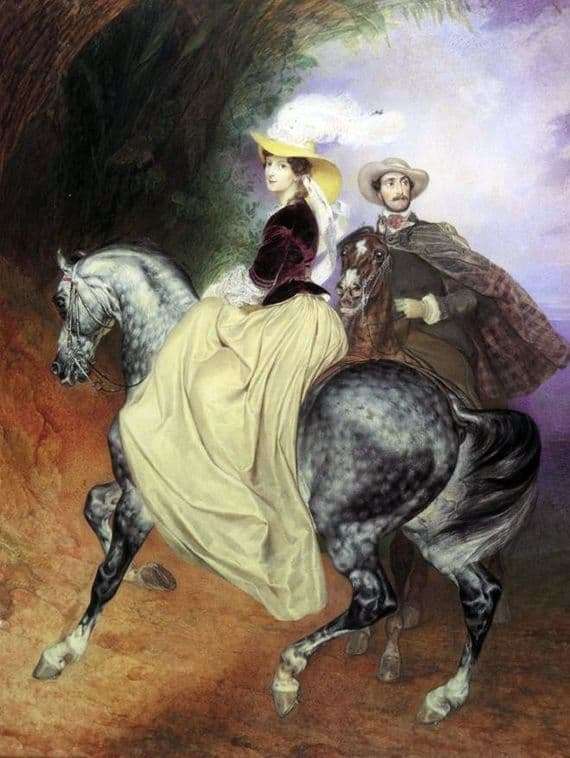 The canvas was written in 1849.
Painting style: romanticism, portrait genre. The picture was painted on cardboard, using charcoal, varnish, watercolors and Italian pencil.
Bryullov left us a creative legacy of his paintings. His portraits caused a lot of emotion among artists in the past century. Do not leave the viewer indifferent and after almost two hundred years.
In the painting "The Riders" Bryullov portrayed the porter you I. Mussar and E. Mussar. Equestrian themes and horsemen have always been one of the favorite subjects in the painting of all the artists in the world. The painters' love for horses is due to the extraordinary power and grace of the animal. They always walked side by side with a man. The theme of horsemen is seduced by the fact that a man, saddling a powerful horse, as if becomes warlike, the grace of a horse and rider is unmatched.
Depicting noble ladies and gentlemen as horsemen, the artists brought us the traditions and way of life of past generations. Bryullov was one of the best authors of this story. We can see the luxury of clothes, become, beauty. Cloth "Riders" was written in Madera. He created several more portraits in Italy.
The picture shows the couple Mussar. They stroll through the countryside and enjoy the views. The work is filled with special brilliance and chic. The faces of the couple are pronounced. The artist depicted the wife of Mussar gracefully sitting on a horse, she is beautiful. Emilia's smile gives her a charm. Her husband proudly looks around. The canvas is considered the pearl of Bryullov's works.
Also attracts the eye of the spectator horse, which also stands proudly, restrained by the hand of the rider. For his canvases, the artist always used horses for the benefit of native breeds. This work of Bryullov is on a par with the main works in world art. The picture is made with the help of skillful subtle translations of colors. At the exhibition in 1851, the work "Riders" was named "Amazon".
The picture is in storage in the State Tretyakov Gallery. Moscow.