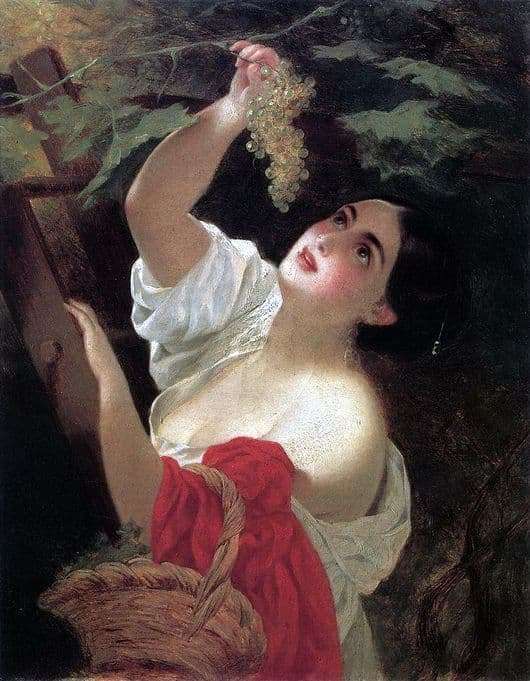 Truly a masterpiece of world painting, the most popular work of Charles, which scattered around the world just millions of copies of reproductions, all kinds of stripes of illustrations, etc. It is worth thinking, from where so huge popularity of this cloth? In this picture, everything is obvious.
Starting with the fact that the fact that the artist is quite sincere, betrayed all the sides and feelings of this picture live is quite obvious, you can not always be able to use words or you can repeat everything that the greatest artist presented to us on his canvas. Probably worth starting with the general interior that surrounds the girl.
In this picture, every detail has its place and purpose, and everything is done in order to provide the viewer with the most accurate picture of what is happening on the canvas. For example, the old staircase, which climbed our heroine of the picture, with a wicker basket for grapes.
Even every dark green leaf of a vine seems to be alive and reproduces feelings in one tone with the heroine. By itself, the girl has a rather gentle and airy image, her barely noticeable blush on her cheeks, a snow-white blouse and dark skin that seems to radiate heat and light. At the sight of a bunch of grapes, which is wonderful in its beauty, the girl is simply unable to hide her amazement and admiration.
The whole composition is built around her, but she actively complements the admiration of the girl. The magnificent game of the artist over the light makes it possible to feel this bunch of grapes as if we can reach into the picture and tear a couple of grapes from the bunch.
The big, beautiful, brown eyes of the girl show us every drop of her sincerity, purity and in some sense, even integrity, thanks to which the viewer is completely imbued with the whole situation, and he has no reason not to believe neither the girl nor the artist who created this wonderful canvas.