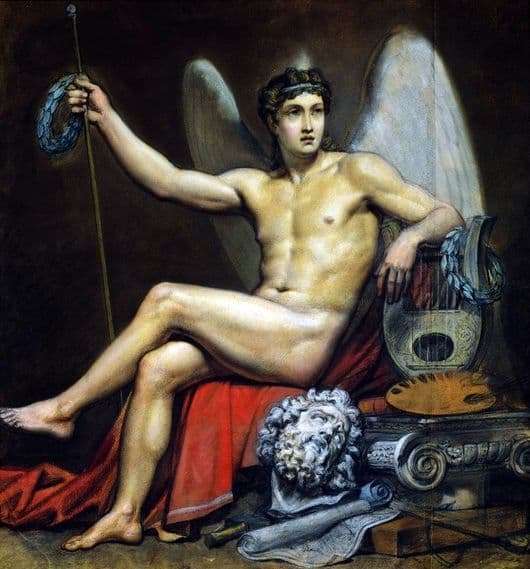 The famous painting by Karl Bryulov "The Genius of Art" was the first serious work of the author and became a true masterpiece of Russian painting. The painting was taken from the author for more than 3 years (1817 – 1820), while Bryulov was still studying at the Imperial Academy of Arts in St. Petersburg. It was one of his student projects that met all academic requirements.
Every detail depicted in the picture harbors deep meaning and emotions that the ingenious Russian artist wanted to convey to the viewer, and in fact he was only 18 years old when he began this work.
As befits a genius, in the picture he is surrounded by characteristic objects such as: compasses, a book, the capital of a classical column, a lyre, laurel wreaths, a sculptor's hammer. The head of the sculpture of Laocoon gives the canvas a vivid emotionality, which contrasts with the calm, carefree posture of the young man, and thus Bryullov contrasts the vagaries of genius and the agony of creativity. Bright red drapery adds to the picture a share of ancient eroticism and extraordinary vigor.
The ideal rounded forms of the naked and winged youth, speak of his deification, and the features of his facelessness. A young man with an excellent body, is hailed as the immortal mastermind of art. Above the head of the hero, you can see a barely noticeable radiance, symbolizing enlightenment or the muses without which it is impossible to imagine any work.
This work was for the Russian artist the starting point, the first serious success in his work and a happy ticket to the world of high art. After this picture, the artist still created many masterpieces of world painting and is rightly considered one of the most talented Russian artists, who left behind not a small cultural heritage.