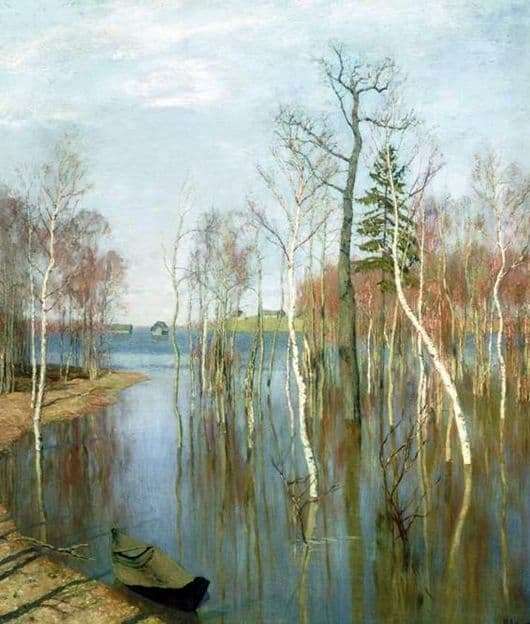 Isaac Ilyich Levitan is a Russian artist who is not without reason called the master of landscape. Despite his difficult life and difficult childhood with the early loss of a mother, Levitan did not stop to see the beautiful around and, moreover, he learned to convey his vision of the beautiful to others through writing pictures.
The young writer's dream was a trip to the Volga, which his beloved teacher Savrasov depicted with such hope. The first trip was absolutely not impressed by Levitan, which he did not fail to tell his friend Chekhov. But the next trip introduced the creator to a small town on the Volga called Plyos. Isaac Ilyich spent three summers in it, writing 200 paintings, which brought him fame and fame in wide circles. Like the artist, the town of Plyos became popular, and many landscape painters began to be interested in them.
"Spring. Big Water "- a picture of Levitan, which depicts the awakening of spring. The painting was painted in 1897, three years before the artist's death. The canvas depicts the awakening of nature from a long hibernation, a sign of which, first of all, is flood. The water flooded the coastal zone, but despite this, there is no feeling that it is aggressive. On the contrary: the peace and quiet of the water is fascinating. Trees and light sky covered with soft spring clouds are amazing. Subtle shades of blue, yellow and green give the picture a special flavor. The most diverse is the color blue. In the picture it is represented by all shades: from dark blue to almost white.
"Spring. High Water "is considered one of the most lyrical paintings of Levitan. She is very beautiful and attractive. Charms the moment of awakening of nature after a long hibernation. This moment is associated with something new in the life of every person, which, perhaps, fascinates the admirers of the artist.