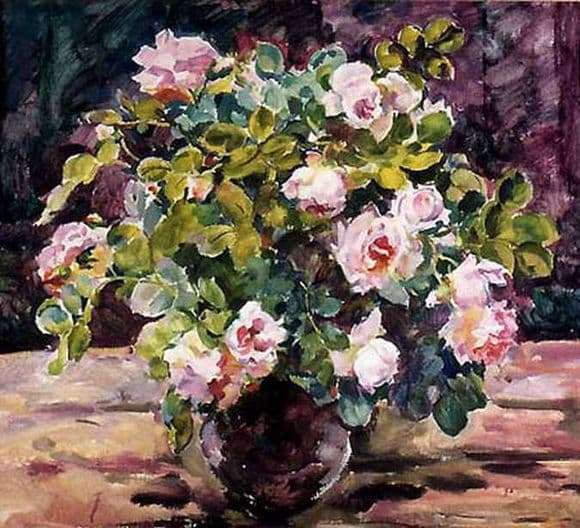 Antipova – a Soviet artist who worked in the style of realism and preferred portraits and still lifes from the genres – she liked to display the surrounding reality as fully and truthfully as possible.
Roses "- one of her floral paintings, which concluded the whole summer. Specifically, this picture depicts a bouquet of flowers in a lilac vase, and it is interesting that, in spite of the name, the flowers are rather refined rosehip than real garden roses. He has too many leaves, inflorescences are not lush.
When their image uses a wide bold strokes that leave the feeling of glare. Such brushstrokes depict a table – the lightness and liveliness with which the brush moved is visible even on its surface – and the background is also depicted by them, turning it into a movement of false rustling shadows, into alluring gloom.
Interestingly, like many talented artists, Antipova conveyed not only the beauty of roses, but also the general mood of the day in which they froze forever, as well as the desire to invent a story about them that arises somehow by itself with any viewer.
Perhaps they were presented to the actress after the magnificent performance of the role of Juliet – and there was a cheering room that rose from the armchairs in unison, and the sultry smell of perfumes and flowers in the dressing room, and the residual ecstasy of the role, when other words popped up in any word.
Or, maybe, a fervent admirer brought them to a young girl, who dug them in a strange garden and was almost bitten by a dog who jealously guarded this garden. And, of course, for his courage, he received a kiss.
Or they, fooling around, were brought to the dreamer and the romance by the militant girlfriend, with a proposal to write a verse about them and extol their beauty – and, of course, she was exalted in verse herself, only in secret, without even realizing it.
The history options are many, and everyone can imagine the one that is closest to him.