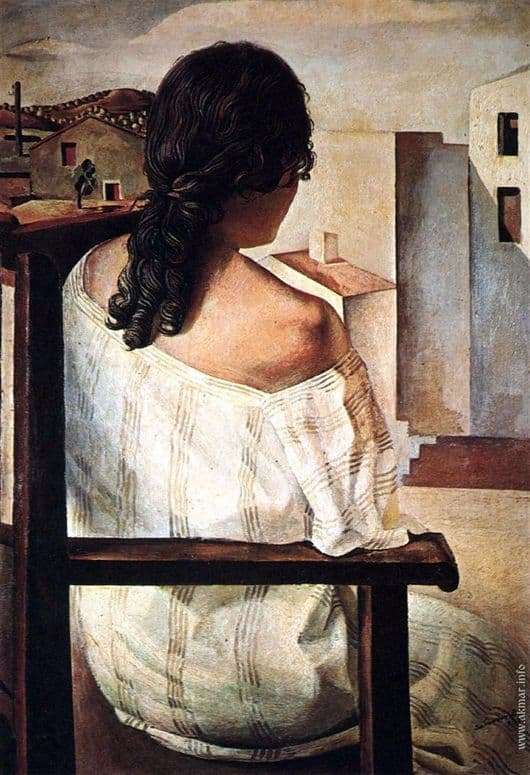 The canvas belongs to the brush of Salvador Dali. The artwork was written in 1925. The painting depicts a girl with a bare shoulder, turned back to the viewer.
To write the canvas the artist posed for his sister. She was his muse and model until such time as Gala appeared in the life of El Salvador. Ana Maria after, as their mother died, was for the master the closest person.
In the works of the artist, who saw the light from 1924 to 1926, the subject of the image of a female figure is clearly traced. One of these canvases is the painting "The back of a girl". In the general tone of the canvas is dominated by warm sandy-honey shades, the soft luster of the surrounding space is elegantly underlined.
In 1925, an individual exhibition of works of art belonging to Salvador Dali was organized for the first time in Barcelona in the Dalmau Gallery. This picture was presented on it. The canvas is not left unattended. The canvas was spotted by Pabl Picasso. The artist really liked the image and the picture was appreciated by him. Only a year later, Daly managed to meet with Picasso in Paris.
We can say that the canvas was made, almost repeating the classic style. The content of the picture is more than succinct. It does not contain unnecessary visual and semantic load. The canvas seems to carry the viewer into the Renaissance period. Due to the fact that the artist depicted a model from the back, this introduces some intrigue into the work. Thereby, Dali seems to be hinting that the viewer follows the eyes of a girl who is admiring the panorama of Cadaques.
The nude shoulder of a model, the roundness of the lines creates a favorable contrast with straight and sharp structures. The attention is also attracted by the artfully arranged curls of Ana, which the artist has carefully depicted.