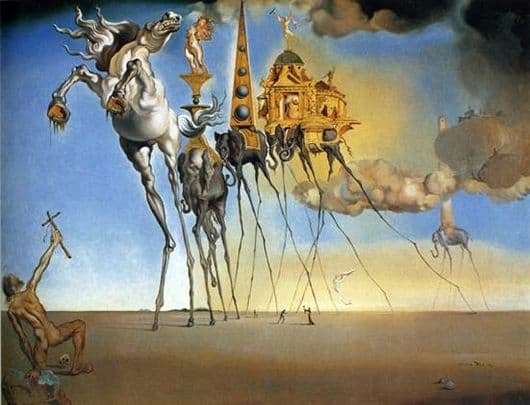 This picture was born thanks to Albert Levin, the producer of the film "Dear Friend." The film required the image of a saint who was constantly subjected to various temptations. Many artists and painters of that time took part in the competition, and the jury consisted of outstanding artists and creative elite. The victory in the competition was won not by Salvador Dali, but by an emigrant from Europe. St. Anthony is a hermit who lived in the IV century. As you know, he was often tormented by nightmarish visions that came to him at night. As a rule, fearsome demons or seductive women subjected the ascetic to torment or temptation.
This story was quite popular in the Middle Ages and the Renaissance, then they forgot about the image of St. Anthony and remembered again in the middle of the XX century. However, Salvador Dali presented the classic biblical story in his unique style and image, which he differs from other great artists. In this picture one can easily trace a certain average dimension between heaven and earth, which is clearly manifested in the long and thin legs of elephants. The figure of the main character, St. Anthony, is in the left corner, and the centerpiece of the canvas is occupied by the very temptations that the hermit is subjected to. The first in this series is a rearing horse, symbolizing sensual pleasure and unsurpassed power. Then follow the elephants on thin and long legs: the first has the Bowl of Desire with a nude woman on the back, the second has an obelisk, and the latter have an architectural composition in the style of Palladio on their backs.
In the background of the painting "The Temptation of Saint Anthony" is the Escorial, which is a symbol of the harmonious combination of spiritual and worldly order. From this picture, according to many researchers and experts, a new branch of creativity of the great artist, Salvador Dali, originates. This trend is a synthesis of three elements: spiritualism, classical painting and the atomic era.