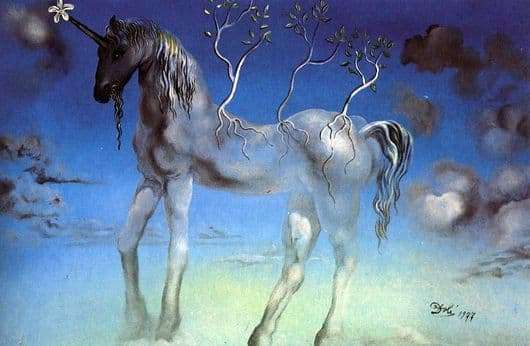 Oil painting by Salvador Dali 1976 "Unicorn" in all sources is referred to as unfinished, while there is a 1977 Dali "Merry Unicorn" identical to this painting.
The unicorn, symbolizing chastity, virginity, spiritual purity, as well as knowledge and spiritual quest, literally soars in the clouds in this surrealistic picture. Three sprouts of trees sprouted on his back, and his horn is decorated with a flower. The body of the animal seems to be itself formed from clouds of the most varied forms.
You can easily see that the lower part of the picture is much lighter than the top, which is expressed not only in the gradient of the sky and the difference in the clouds, but also in the colors of the unicorn. The head with iridescent mane, chest and tail contrasts markedly with the legs and hooves.
The color scheme of the sky, clouds, mane and tail as a whole causes anxiety in someone, joy in someone; Someone will find something peaceful in the picture. Indeed, emotions when considering the picture is ambiguous. But whatever they are, a person instantly plunges into a picture that amazes and fascinates.
At the same time, it is obvious that the unicorn, contrary to the name, has not a cheerful mood, but rather is thoughtful and calm. Perhaps the epithet jolly (happy – can also mean happy) was chosen by the author of the canvas because of the comparison with the Unicorn original or due to the different elements of the picture and its color scheme.
Trying to guess the true message and meaning of the picture of Salvador Dali, it is difficult to come to a definite conclusion, because there can be a lot of options for interpreting the same characters. It remains only to note that the picture, like all the rest of the artist's work, can be counted among the outstanding works that produce the desired effect on the beholder.