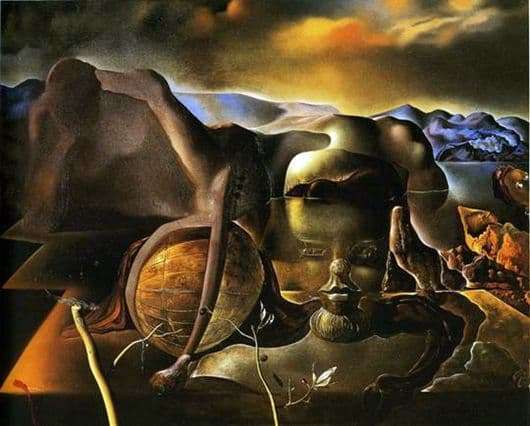 "The infinite mystery" is not among the most famous canvases of Salvador Dali. The painting was painted in 1938, shortly after the death of Lorca.
In the center of the picture – the face. The portrait simultaneously resembles actress May West. A year earlier, Dali had already worked with her image, creating the famous portrait-room. However, the portrait is similar to the late Lorca.
Also in the picture there is a huge dog. Her silhouette is barely visible, merging with the surrounding landscape in a puff of smoke. The dog, like the head of his friend Lorca, is a frequent companion of Dali in the pictures of the 20-30s.
Despite the fact that the picture was written in full accordance with the spirit of surrealism, Salvador Dali himself in the early 30s dispersed with other surrealists. The reason was in politics – Dali admired Adolf Hitler in his own way. However, as the artist himself said, he was most interested in the Fuhrer's nonsense. One way or another, the Surrealists charged him with counter-revolutionary activities, after which Dali finally broke with them. However, he continued to paint.
In The Endless Enigma, Dali began to explore "paranoid phenomena." In an article that was written for the first exhibition of the painting, Dali proves that paranoid vision is inseparable from human vision, citing a caveman as an example. This man, in any irregularity, saw some hallucinatory images that he "modified" by creating or removing new irregularities.
Despite the extensive advertising, "The Infinite Mystery" was one of two pictures that Dali could not sell at that time. The second picture was "The Mystery of Hitler." This fact of many critics, because the artist himself called these two canvases "the key" to understanding the entire exhibition. Today the picture is in the exposition of the Madrid modern art.