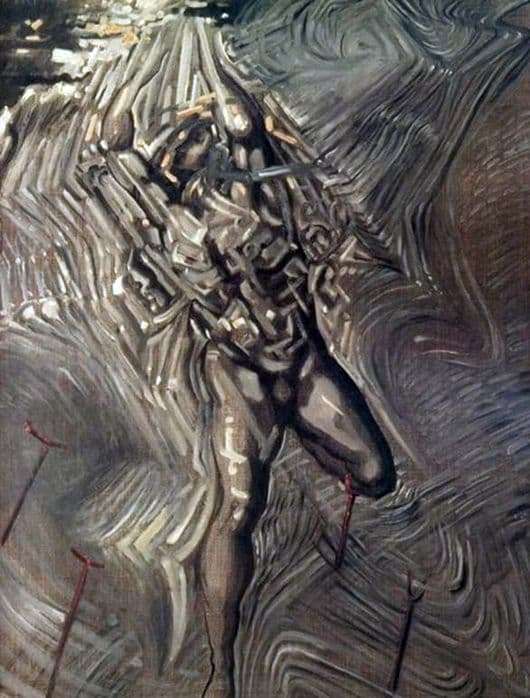 The painting belongs to the brush of the famous surrealist Salvador Dali. The canvas was created in 1982. The image by the will of the artist's hand lay on the canvas in oil paints.
After Salvador Dali reached middle age, religious themes began to appear in his works. Previously, the artist himself, just as his father was a supporter of atheistic views. However, a little later, the elder Dali turned to the side of Catholicism. Actually the son also did.
The artist tried to become the successor of religious subjects in painting. However, in his works Dali embodied his own vision of this issue, giving the paintings a new content and image.
Salvador Dali created a number of paintings devoted to religion. One of these canvases is the painting "Martyr". In the image of the martyr, Sebastian appears in front of the spectator – a character in Christian church literature. During the Renaissance, it was quite a popular plot in the paintings. There are many variations depicting the suffering of the martyr.
According to one version, it is known that Sebastian was known as a protector against the plague, which often enveloped Europe. However, another version suggests that the plot with the image of the martyr became popular among painters because the church allowed him to paint naked. Sebastian was depicted dying and riddled with a multitude of arrows.
Although the plot was the same, the image of Sebastian was unique for each artist. So in a few centuries, Salvador Dali created his martyr in a completely different interpretation.
The picture is permeated with dull gray colors, as if hinting at the approach of a speedy end. Naked body, distorted in suffering. And this time it was not without crutches – a kind of autograph of the artist. And not without reason, because they symbolize death.