Home

⇒
📌Dali Salvador

⇒
Description of the painting by Salvador Dali "The Mystery of William Tell"
Description of the painting by Salvador Dali "The Mystery of William Tell"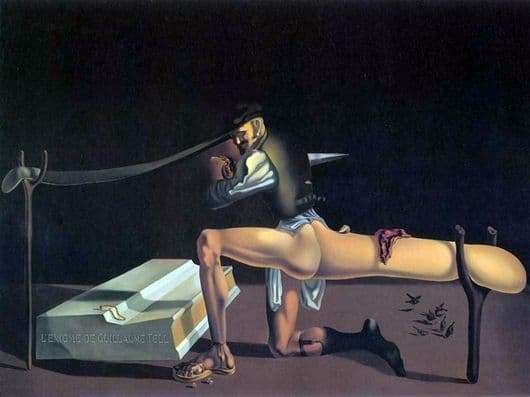 The famous painting "The Mystery of William Tell" was created by Salvador Dali in 1933. Nina canvas is stored in the Museum of Modern Art, which is located in Stockholm.
The artist drew the idea for painting the picture from his dream, as well as for his other creations. Tell, in Dali's imagination, personifies his father, who left his son without an inheritance.
On the canvas, William Tell is depicted with the face of Lenin. It would seem, why it took the artist? As it turned out, everything is simple. Dali and previously used the look of Lenin for his works.
The group of surrealists, including El Salvador, supported the communist views of Vladimir Ilyich and, of course, revered him in every way. The artist wanted to arouse their indignation and rage. From his side it was a mockery of them. That is exactly what Salvador saw Lenin in his creative world. The leader is depicted with an incredibly long buttock, which is supported by a crutch. By the way, he is not alone there. The second crutch also supports the unusually long visor of Lenin's cap. All this is certain symbols of death. At the same time in his hands is a small child.
Once again, the artist's childhood fears revived in the canvas. In the image of Lenin is displayed, as in a mirror, his father. He threateningly gazes at the baby, as if about to eat it. But this child is Dali himself.
The picture was put on display at the Salon of the Independent and, to the great joy of Dali, put the surrealists in anger. They perceived the canvas as a caricature of the leader. Andre Breton was swept by a storm of rage. He regarded this painting as an anti-revolutionary action by the artist.
Surrealists have attempted to disrupt the picture and destroy. But they did not work, because the canvas hung high enough. After that, it was proposed to expel Daly from the group, which was done.





(
2
votes, average:
4.50
out of 5)
Description of the painting by Salvador Dali "The Mystery of William Tell"