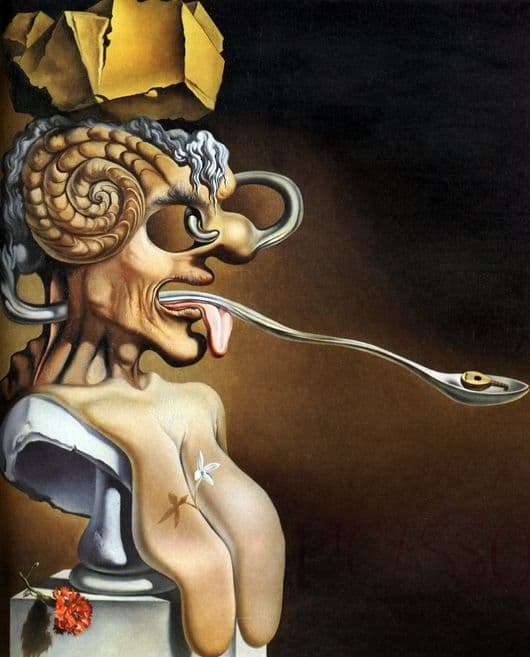 Salvador Dali almost did not create portraits of other artists. There are very few exceptions – for example, he once depicted Velasquez in a painting. One such exception is the Portrait of Picasso written in 1947.
The relationship of two artists, each of whom considered himself an absolute genius (Dali didn't even hesitate to compile the Diary) was very peculiar. Dali sought to be on the same level with Picasso. He sent him postcards, telegrams, once offered to abandon pro-communist views and move to nationalist Franco Spain.
Picasso, on the other hand, considered all the attempts of Dali only as "advertising tricks". He never mentions the name of Salvador Dali, does not talk about work, does not respond to messages – even to the famous "Portrait of Dali".
This portrait is a mixture of monstrosity and arrogance. Here you can guess some features of Picasso. This is the helmet in which the artist works, having adopted the form of goat horns from Dali, some Greek motifs.
All Dali paintings are deeply symbolic. "Portrait" is no exception. Together with the enormity and arrogance, there is a tribute to both the intellect of Picasso and his sentimentality. These qualities indicate the mandolin and flowers.
Dali himself said that the picture depicted the emperor. Arrogant, cruel, sentimental. Greek motifs are also expressed in replacing the traditional imperial crown with a laurel wreath.
The painting dates back to the time when Dali lived in America. She exhibited in New York in the winter of 1947-48. The artist was preparing a picture for the permanent exhibition in his own Theater-Museum in his native city Figueres.
Portraits of Dali – this is not how this or that person looked. This is a Dali presentation about this man. To some extent, these are friendly caricatures, showing great respect.