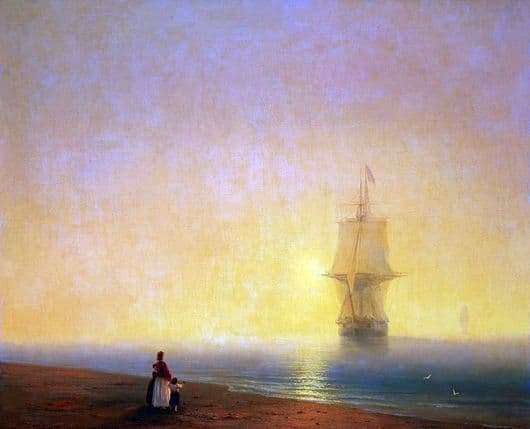 The canvas of the outstanding artist Ivan Konstantinovich Aivazovsky "Morning at Sea" was made with oily paints on canvas. This work is dated 1849 year. The original size of the painting is 85×101 cm. Now the canvas is housed in the museum complex in Pavlovsk among other artworks.
In the paintings belonging to Ivan Ivan the brush clearly shows the degree of his world view, as well as skill. Famous works of the artist were performed under the direct influence of the romantic canons of K. P. Bryullov. In general, he had an effect on Aivazovsky's perception of art as such. As well as Bryullov, he set himself the goal of creating masterpieces of bright canvases, with the help of which one can praise the great Russian art. It can be argued that Aivazovsky and Bryullov are similar in their craftsmanship of performance and technique, they also have courage and speed of action.
On the canvas "Morning on the Sea" a wonderful start to the day appeared before the viewer. Everything is shrouded in carelessness and peace. It was just such a sea that the young artist saw in his imagination. The sky, painted yellow by the rising sun, gives bright colors and seems to indicate the approach of a warm day.
The sea is surprisingly calm and only a light breeze drives the crests of the waves to the sandy coast. In the rays of the rising sun one can see a sailboat. It seems that quite a bit more and its passengers will set foot on the ground.
Further, on the horizon, another ship is barely noticeable. And only two figures on the shore are eagerly awaiting the approaching ships. This is a mother with a daughter. Cloth permeated with deep romantic feelings.
The pictorial picture shows soft blue shades of sea water, while the delicate golden gamut gives a general appearance of lightness and tranquility.