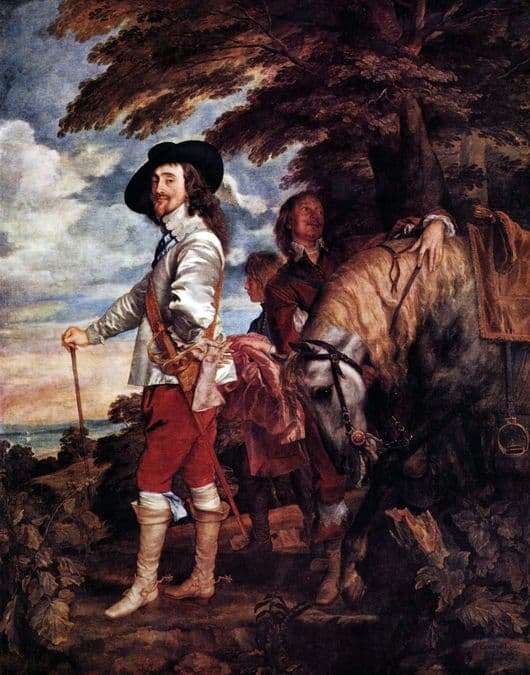 Van Dyck is a Flemish portraitist and religious artist. In the portraits of this creator one can see the play of light with a shadow, a combination of plastic and linear rhythm, a color influenced by the work of Rubens and the school of Venice. When Rubens returned to his home, in 1632, Van Dyck went to England, because I did not want a competition between him and the master of genius; he begins to serve under King Charles I, he was given the rank of chief royal painter and the title of knight. In the years of work the artist creates a royal portrait and several portraits of court aristocrats from England.
Charles I was depicted by him in full growth against the background of nature, he took a regal position and was dressed in beautiful clothes. The portrait, though embellished, but the sense of measure inherent to the creator and his excellent abilities saved the work from the impression of coarse flattery. The character works based on a cane near the edge of the cliff. Its silhouette stands out against the sky with clouds, which has faded into the background. A hat with wide brims makes his image more expressive, attracts the viewer's gaze to his face, which looks spectacular. The artist began to paint a portrait when the king was full of vitality and energy.
He had a well-built physique. By his nature, he was melancholic, with a gracious, gracious and pleasant appearance. Royal acts indicated that he was not characterized by inclinations toward despotism and unlimited lust. Karl was a true sovereign, fair and kind. In the portrait the creator with the help of colors, light and forms conveyed such loyalty that before the eyes of the people the king appeared with his feelings on his face. That is how studying with great responsibility, the artists of the Middle Ages reproduced the people they depicted.