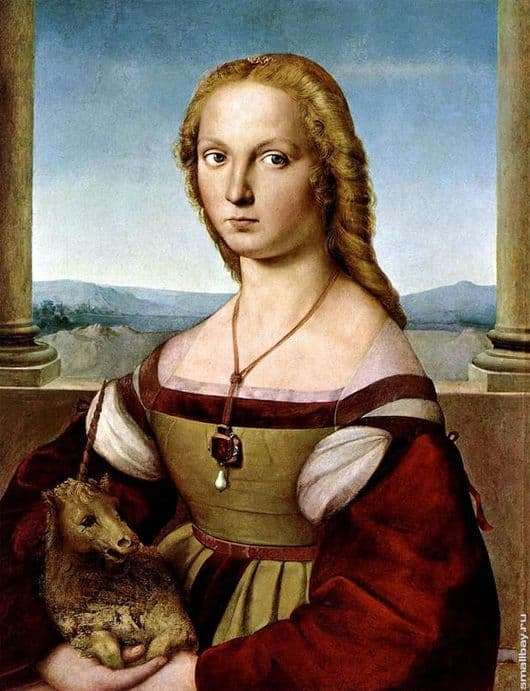 The painting was painted in typical Renaissance style. The painting depicts a girl holding a little unicorn in her arms. Unicorn since ancient times was considered a symbol of purity, purity. Legends say that only a virgin can tame a raging unicorn.
The painting by Raphael Santi depicts a plot widely popular in those days. It was reflected in numerous works of Renaissance art.
In the center of the canvas we see a young girl, depicted to the waist. The portrait is typical for that time – the girl is sitting on the background of nature, seen from behind the columns of the castle. She is wearing a wide beautiful dress of golden and burgundy fabric. The dress has a wide and deep neckline, but according to the proportions of the Renaissance figure the girl has overly sloping shoulders and a completely flat chest.
There is an unusual pendant around the girl's neck, consisting of a leather lace and a large burgundy stone, most likely a ruby.
The girl has light wax skin, she is almost transparent. The girl's hair is blond, gently tucked into her hair, but the length of her hair is visible. Hair slightly curled. Blonde hair is another symbol of purity.
The face of the girl is impartial. It is impossible to guess a single emotion on a frozen face. At the same time, she looks as if with reproach on the viewer. Her lips are tightly pursed – she confidently controls the situation. On the face of her calm and no shadow of doubt.
The unicorn in her arms is calm and contented. His mouth is half open, his eyes are looking to the right. The absence of a horn would make this mythical creature look like a unicorn.
In this picture, Raphael Santi celebrated the miracle of purity, the beauty and purity of this state. In the Renaissance, virginity was considered a force that gives some special, magical properties to a woman. The girl in the picture is pleased with her position, she enjoys her power to command over the unicorn.