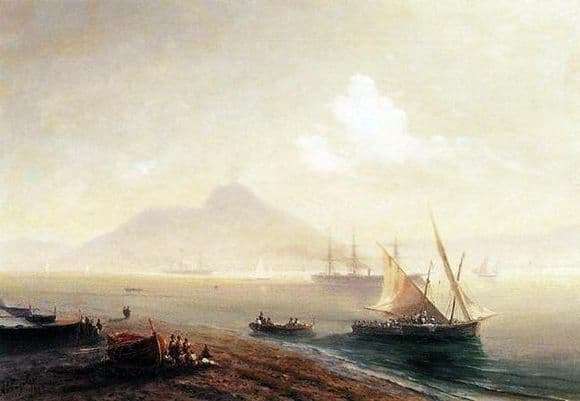 The most famous marine painter, I. K. Aivazovsky, wrote thousands of paintings about the sea that inspired him. The painter was interested in storm and calm, sunrise and sunset, winter and summer. He knew how to skillfully capture all the conditions and shades of the sea weather. Now these masterpieces are available to the general public in many museums around the world.
Each picture by Aivazovsky is a unique world with a unique atmosphere. The artist wrote canvases from memory. Once he saw the beautiful landscapes of the elements of the sea lay on the canvas with a striking photographic similarity. Painting "Sea Bay" in 1900 depicts a calm harbor with ships. It was painted in the last year of the life of a brilliant Russian artist.
We see a brilliant in all respects work.
On the horizon, the misty haze outlines of the mountains. Ships, light sailboats and lifeboats lowered into the water. They are difficult to count, as the silhouettes are also lost in the mysterious fog. On the shore, you can clearly see the figures of people. Some of them are resting near the boats, others are closer to the water. In all this, peace, tranquility and harmony are felt.
The greenish water surface barely sways in the breeze. Slow waves slightly audibly run onto the sandy shore. A ship close to the shore raises a white sail, a boat with passengers slowly floats toward it. Nothing disturbs this peaceful calm of busy people.
Most likely, Aivazovsky captured the dawn hour. It is at this time that the sun is distinguished by such a soft light. And the fog is also a satellite of the early morning hours.
"Sea Bay" seems to us poetic, extraordinary in beauty.
Muffled colors are replete with warm shades. In some places, other natural colors appear smoothly. A large white cumulus cloud froze in the middle of the sky.
"Sea Bay" in 1900 was placed in the Tretyakov Gallery.