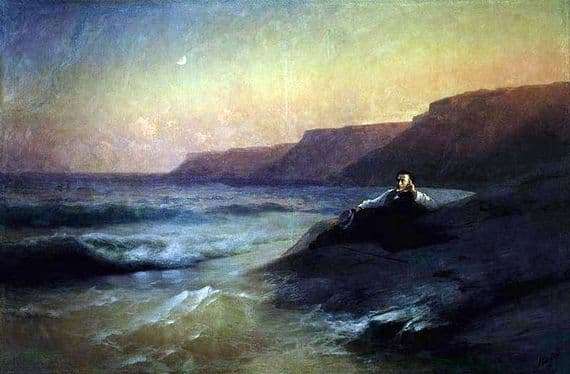 The canvas was painted in 1887 in oil on canvas.
Aivazovsky – the great Russian painter. His canvases are known all over the world. He gained his popularity in his youth, after presenting his works on the maritime theme at the exhibition.
Then she made an incredible impression on artists. His love for the sea has been with him since childhood, since he was born and grew up on its shore. He traveled to many European countries, where he created more than fifty canvases with different seascapes. His legacy is invaluable for our country.
Works by Aivazovsky depict the sea element in all its manifestations: calm, storm, sunset and dawn, the open sea and the bay in famous scenic spots.
But one more admiration for the artist was the work of Alexander Pushkin. Aivazovsky's personal acquaintance with Pushkin took place in St. Petersburg in 1836. This event inspired the artist to create new paintings. He writes a cycle of paintings dedicated to Alexander Sergeyevich.
The artist's work "Pushkin on the Sea" – is one of the great works of Aivazovsky. He created it when it was 50 years after the death of the brilliant poet. On it, Pushkin is depicted sitting on the seashore at sunset. He thinks something to his head, maybe write new poems.
The sea surface is slightly agitated, as if greeting the great poet. The picture once again proves the skill of Aivazovsky's brush. The combination of colors, shadows, lines gives the canvas realism and depth.
This is the second picture dedicated to the poet and the sea. Another canvas known throughout the world is Pushkin's Farewell to the Sea. This canvas strikes the mind of anyone who looks at it.
A masterpiece of painting "Pushkin on the Sea" was donated by the Aivazovsky Museum of the Academy of Arts. Now she is in the Vereshchagin Museum. There it is kept to this day. In the war years, the canvas suffered greatly. When the artist Stepanenko discovered him, it was in a very pitiable condition. After that, the restorer worked on it.