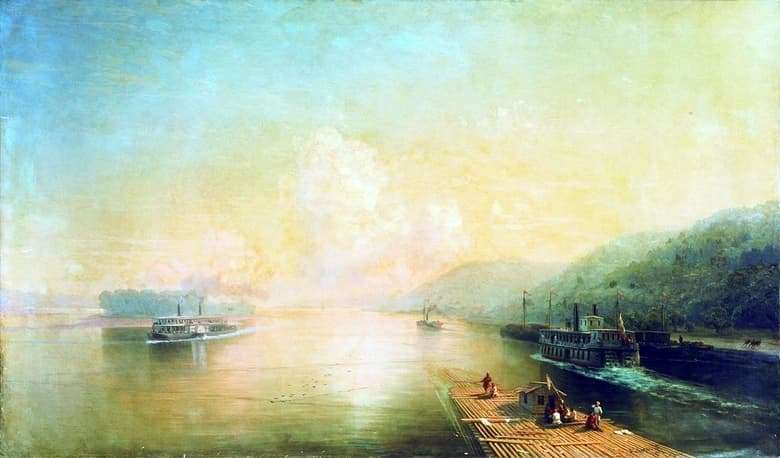 Written in oil on canvas in 1887. Size – 129 by 219 cm. Stored in the National Museum "Kiev Art Gallery", Kiev, Ukraine.
The great river with its unique landscapes inspired several prominent artists to create paintings at once. In 1870, in the coastal village of Shiryaevo, I. E. Repin wrote etudes for the famous "Burlakov on the Volga", together with him went the schedule of EK Makarov and landscape painter F. A. Vasiliev, who created "View of the Volga. Barca "in the same year. Aivazovsky traveled across the expanses of water on a steamer in the mid-80s. XIX century. A few years later, he showed his vision in this work of art.
An unusual picture appears before the modern viewer, which at that time was quite familiar. In the foreground there is a raft ramp scene, when logs are fastened together by water. On the resulting wooden raft resting on a plot with a calm course-raftsmen workers. On both sides of them at a higher speed, two steamers with imperial flags cut through the calm water surface. If you look at the right bank of the river, you can see a group of people – these are barge haulers that are pulling the ship going to the shallow water.
The magnificent perspective of the right bank stretching into the mist, saturated with the sun bending westward is the Zhiguli Mountains of the Russian Plain, which are now territorially related to the Samara Region. From their side, evening shadows begin to fall, coloring the river floodplain with dark green, marsh and brownish. But most of it is still bathed in soft diffused light, which is reflected in the water from a shining yellowish-orange, pinkish sky in light clouds. Only from the upper left edge does a blue-green night creep unnoticed. In a colorful and very summer landscape, the master managed to convey the peace and greatness of nature in the coming sunset.