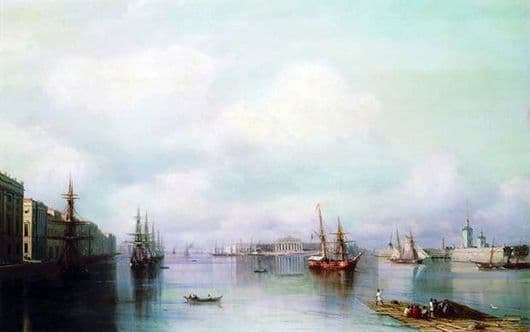 Aivazovsky's painting "View of Petersburg", referring to the late period of the artist's work, is relatively little known to the general public.
First of all, Aivazovsky – marine painter. And most of his work is connected with the sea. Sometimes as an exception he painted other pictures. In the canvas "View of Petersburg" there is no sea, but there is a river – the Neva. Water occupies almost the entire space, partly holding back only by the shores and lined houses.
At some point, the water merges with a cloudy sky. And it is not always possible to accurately identify the line where one element turns into another. The setting sun slightly illuminates the sky, gradually engulfing in clouds, and is reflected in the water. The color of the river and the sky is almost the same – turquoise, light gray.
As in most pictures of Aivazovsky, water dominates here. On the banks you can distinguish the famous St. Petersburg buildings – the Stock Exchange, the Peter and Paul Cathedral, the majestic Winter Palace. But the greatness of these buildings pales in front of the power of the river.
There are many sailing ships here, both moored to the shore and floating, several small boats, and even a raft driven by a helmsman. Given the number of large and small vessels, the helmsman must be very skillful.
In general, in the picture you can see the full set of the main attractions of St. Petersburg – many architectural monuments, a pier with ships and the Neva River spread in all directions.
Aivazovsky was tied to many things in Petersburg – in this city he fully developed as an artist. At the heart of the picture, as in most others – worship of nature, the grandeur and beauty of the river.
The painting, which is stored in the National Gallery in Yerevan, is less well known to the viewer than the earlier paintings of the artist depicting Petersburg. Here you can see the late Aivazovsky – a calm landscape, water, a household scene.