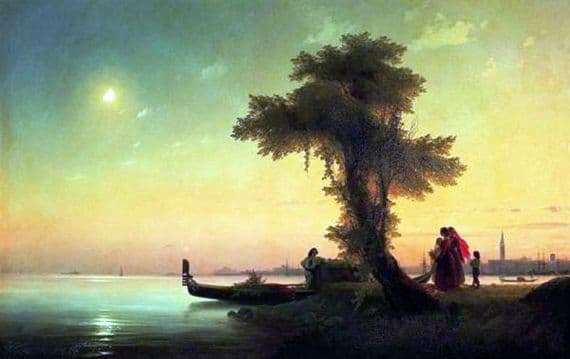 The canvas was painted in oil on canvas in 1841 in the style of romanticism, in the landscape genre.
The artist's childhood passed near the sea, which formed his boundless love for seascapes, ships, and hikes. Therefore, he, like no one else, could register all the details, convey exactly the historical events.
Aivazovsky traveled to Rome in 1849 to continue his studies in art. He went there among other famous artists. In those years of his life, he traveled almost all European countries, visited many places. His seascapes are known all over the world, Aivazovsky, like no one else, could convey the full power of a storm or the silence and romanticism of night bays.
In Italy, he painted more than 50 canvases, which caused a storm of emotions at exhibitions and glorified the young painter. He was compared to the Great Paganini, they said that he had no competitors in the ability to use tones.
"View of the Venetian lagoon" is one of the canvases on the sea theme of Aivazovsky. The canvas overlooking Venice from the painter is not one. It depicts the quiet water surface of beautiful Venice. The canvas has no bright shades, but the artist, using a combination of several colors, has achieved incredible depth and tranquility of the form. In the distance, you can see the outlines of urban buildings.
Looking at the picture, you always perceive the landscape in different ways. Sometimes, it seems that it is dawn and the girls on the shore are waiting for a trip with an experienced gondolier. Sometimes you think that another day of Venice has passed, and people on the beach see off the departing sun. But we can definitely say that the picture calms and makes you think. This work once again confirms the skillful possession of the brush. Aivazovsky prescribed all the details, uniquely picked up the light and white effects.
The canvas is stored in the State Art and Architectural Palace and Park Museum-Preserve Petergof.