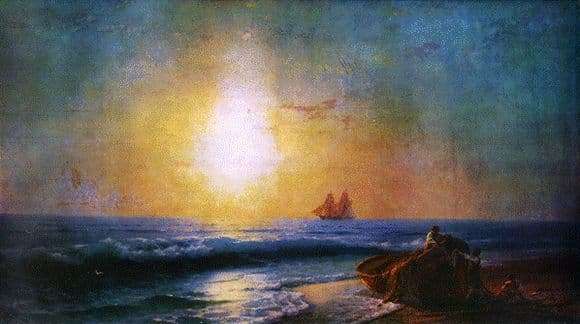 During his long and rich creative life, Ivan Konstantinovich Aivazovsky wrote about 6,000 canvases made in different techniques of painting and graphics and on very different subjects. Most of his paintings have a certain plot and a peculiar staging, and there is always a landscape part on them, including some favorite theme of the artist – the sea, mountains or particularly impressive places in cities and countries that Ayvazovsky visited in great number in search of creative ideas.
But the most attractive on the paintings of Aivazovsky is not so much his plot or nuances of the landscape, but the ability of the unsurpassed master to reflect the unexpected richness of the color of sea waves or the predawn sky, to give the sun and the moon unique natural brightness and energy, from which the air in the images seems to break. from the frame, and the sound of the sea or the southern streets when looking at the picture suddenly arises so clearly, as if the invisible door was opened.
Throughout his life, the artist was looking for ways to achieve special optical effects on the canvases. His unique technique of multi-layered glazing, where oil paint is superimposed on a special light soil several times with a very thin brushstroke, gives transparency, volume and depth not only to sea waves or the ringing heat of the atmosphere of the south, but also to solid land objects – mountain paths, sand on the shores and trodden streets. overseas cities.
The painting "Sunrise" was written in 1878 and conveys the seascape, beloved by the master at dawn. Most of the canvas is occupied by the rising sun, which fills the air, which is still dense from the night, and in the foreground there is an incredible sun glare permeating the departing wave. The painting technique has been brought to such perfection that in this warm nightly water I want to give up and listen to what the fishermen are saying on the shore, slowly equipping their boat in the next labor voyage.