Description of the painting by Ivan Aivazovsky "Alushta"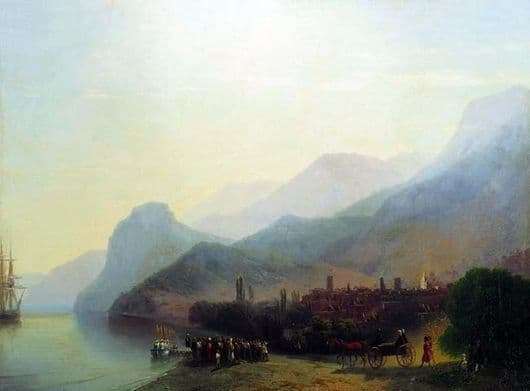 Ivan Aivazovsky created the painting "Alushta" in 1878, now it is kept in the art gallery of Theodosia, bearing the name of the artist.
The landscape depicts the Crimean city of Alushta. The image of the usual southern town transfers to the canvas master. The view of the audience opens a wonderful picture of a warm summer morning on the sea coast and majestic mountains.
It can be understood that it is the morning time depicted on the canvas due to the warm shades of paint. The air, the mountains and the sea are literally soaked with morning sunlight. And only the high mountains in the background are painted with pale and translucent bluish, and in some places even hints of silver. The sea is depicted calm, without a single wave, solemn.
Ivan Aivazovsky – marine painter, always paying close attention to his paintings of the mora and the sky. In this creation, he deviates from his rule and depicts on the shore a genre scene with small details that takes place near the walls of an ancient fortress. The picture clearly shows the fortress Aluston, built by the Roman emperor Justinian. Most likely, it depicts an important event for the history of the city. This is evidenced by a crowd of well-dressed people standing on the shore, the team in the boat, lifting the oars (giving them salute).
Brychka with two horses in front of him is driven to the shore, perhaps an important urban person. In the lower left corner of the picture are depicted under the sprawling green crown of a tree a middle-aged stout man in a black suit and two little girls dressed up in beautiful white dresses. All figures are spelled with true skill.
Aivazovsky loved to be in the south of the Crimea, he was inspired by the local landscape, beautiful nature, calm sea and majestic mountains. The artist himself said that it is impossible not to be inspired by the poetry of this place.





(
2
votes, average:
4.00
out of 5)
Description of the painting by Ivan Aivazovsky "Alushta"