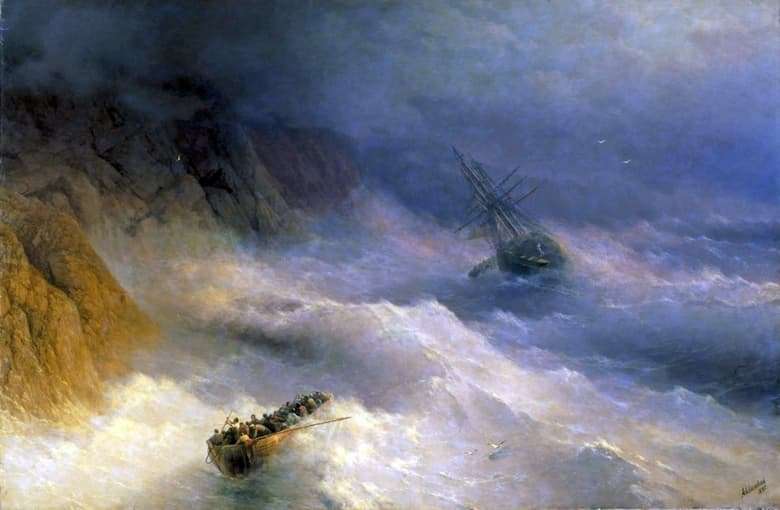 Year of creation – 1875, size – 215 by 325 cm, materials – canvas, oil. Located in the Russian Museum, St. Petersburg, Russia.
Territorially, the cape is located in the south of Crimea, not far from the city of Balaclava, and is a rocky wall about 13 km long, while its highest mountain, Kokiya-Kiya, is not higher than 600 m. The artist depicted this picturesque piece of wildlife during inexorably carries a big ship straight to the steep shore. The wind and the surging waves lurch the ship, promising a terrible death to the crew. But a few brave sailors dare to fight the elements and launch the rowboats into the water, trying to save themselves. The first one is shown in the foreground.
By the choice of colors and special softness that fills the picture, despite the sad start, it is quite likely that the dawn is bringing hope. From the darker part of the canvas, permeated with the energy of the storm in anxious lilac, violet and black-blue, the gradient smoothly changes to lighter and more calm shades. It even seems that the first warm rays of the sun fall on people and all around them. The sky clears up, the waves calm down a little, which means that the chances of survival are seriously increasing.
Aivazovsky has great color – his sea is heterogeneous and beautiful. On the one hand, it is dangerous and cruel, on the other – multifaceted and living as if by itself. The viewer sees all the transitions of shadow and light inside the mountains of water and snow-white foam on their tops, whose children – seagulls – break free and are not afraid to drown, unlike people. Considering the level of detail and the impressive size of the canvas, it should make a huge impression close by – the emotional tension and foreboding of the approaching junction captures and scares. The richness of shades and contrasts attracts the eye