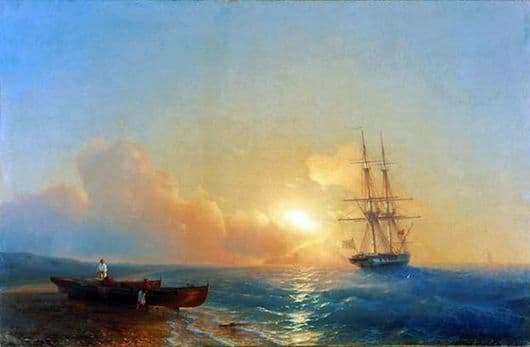 In the very heyday of Russian culture of the 19th century, the formation of the great painter Ivan Aivazovsky took place. He was born in the seaside town of Feodosia.
Since childhood, the boy's life was filled with the sound of the surf, the overflow of sun glare on the water, the ships moored to the shore. And so the passion for drawing was born to a young talent. He loved to paint with coal the whole episodes on the houses of the town. His talent was noticed and appreciated by the local mayor, and later he helped to enter the Simferopol gymnasium, and later the Academy of Arts in St. Petersburg.
During his years of study, Aivazovsky became acquainted with the French artist Tanner, and this meeting was crucial in the creative work of the future genius of the brush. The master taught Aivazovsky all the rules and techniques of the magnificent image of water. Upon graduation, for his brilliant results in the performance of graduation work, he was awarded a gold medal, which gave him the opportunity to realize his creative potential abroad.
Aivazovsky could so accurately convey the breath of the sea and its movement that he managed to create his own style in depicting the poetic image of the infinite element, which he had been faithful all his life.
In his paintings, often, you can see people who admire the magnificence of natural beauty. After all, man, in his opinion, is an integral part of the universe.
The artist was distinguished by an individual method of painting pictures from memory, without etudes. He only made sketches in pencil.
Titanic effort was accompanied by writing canvases of large sizes. Depicting the sky and air, he could draw deep into the night in order to finish the work in one session. Thanks to diligence and falling in love with the sea, he brilliantly comprehended the transmission of airiness and the integrity of the color transmission of the sky.
The image of water in his paintings meant an endless, stern, swaying ocean and sky.
As he said: "The sea is my life."