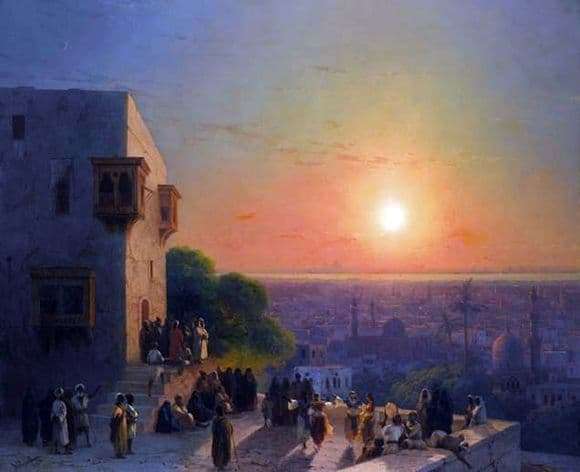 "Evening in Cairo" – one of the most beautiful and mysterious paintings, world famous, painter Ivan Aivazovsky, written in 1870. It can rightly be called an artistic masterpiece, which has no analogues in the whole world. On his canvas, the author depicted a panoramic view of the most spectacular and legendary places in Cairo, ranging from the elevation in the east to the pyramids of Giza.
The plot of the canvas takes place at the sunset hour, filled with magical charm. The sun leaving the horizon colors the sky with honey-pink colors. A little bit more and the city plunged into twilight, the sky gradually began to darken.
In the foreground of the picture the viewer has a view of the house, made in the Egyptian style. The flat roof and small windows protect its inhabitants from the heat that is familiar to the climate of these places. Spacious stone square around the building is dotted with locals in bright traditional outfits. Each of them is busy with something simple and trivial, that the viewer involuntarily gets into the atmosphere of immersion. In the middle of the square, young girls catch the eye of passersby with their dances.
If you look a little further, the viewer has a view of Cairo in the smallest detail. Many buildings; houses, cathedrals and towers stand shrouded in lilac haze. Lush green trees and sprawling palm trees complement all this magnificence.
The landscapes created by Aivazovsky are striking in their realism and capture the spirit of even the most sophisticated spectator. The author was able to masterfully portray not only the most scenic places of the planet. People looking at his paintings can feel the breath of the wind, the warmth of the air, the fragrance of plants and even hear the splash of water, thanks to its unique style of performance. Perhaps that is why the paintings by Aivazovsky are considered invaluable.