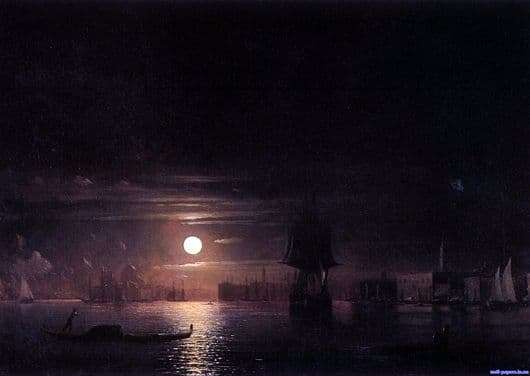 There was not a single painter from Russia who once visited the sea would not try to convey all the beauty that he can observe. But, it is worth noting that among all, only Aivazovsky was able to transmit all the emotions of water to the highest degree of quality.
Aivazovsky was constantly captivated by the romance of sea battles, so he has a whole series of paintings depicting huge warships. He conveyed the harsh reality that borders on fantastic stories. In the painting "Night in Venice", the world is surprisingly emotionally conveyed. The main line of this canvas, of course, is the idea of the greatest power of nature.
The artist as if put the force of nature on one side of the scale, and on the other, the fragility of human life, as opposed to and simultaneously comparing them. The whole atmosphere speaks of the emotional and dreamy nature of the master. On this canvas, a huge, or most likely even the main role is played by light. At the same time, the light is like a symbol of life, both for the sea and for all life around. This is the light of knowledge, creation.
The picturesque beauty of Venice at night appeared on the canvas in the very original idea that was conceived. The picture has retained its freshness and incredible appeal to the viewer.
On the clear water, barely noticeable ripples created by a weak gust of wind. Warm air from beginning to end soaked the whole sky, on which the moon is located, illuminating everything around with its yellow color. In the distance you can see buildings of the city, which only add poetry and artistry to the whole image. All the tranquility of what is happening is skillfully described by the artist and fully conveys the whole atmosphere of what is happening, thanks to which the viewer has the opportunity to fully feel the picture.