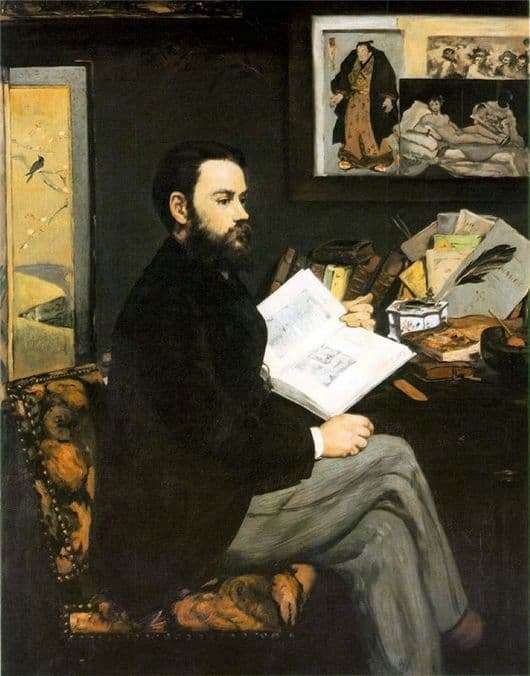 The painting "Portrait of Emile Zola" was written by Edouard Manet in 1868, was written from the writer himself, who came to the workshop of the master several times a week for posing. Edouard Manet and Emile Zola were good friends, protecting each other from attacks by the press and critics. It should be noted that success came to the artist after he presented his portrait to the public, as well as several articles by Emil Zola devoted to the work of his unrecognized, then another, friend.
On the canvas, Emil Zola is half-turned and sits at a desk in an easy chair, he is thoughtful, his face is well lit, as is the book the writer holds in his hands. Apparently, the reading in the thick almanac is so interesting that the writer has forgotten about the whole world around him and now comprehends what he has just learned.
The situation itself is thought-provoking – creative chaos can be observed on the table: an inkwell, packs of books and papers, practically do not leave any space for anything other than what is already there. Immediately on the table is a plate and a spoon, which creates the illusion that the writer at his occupation quite often forgets about food and drink, because he puts them as close as possible to the workplace.
The walls are darkened, but the paintings and clippings that adorn them are clearly visible, the viewer can see part of the landscape, depicting a bird on a branch, as well as a different picture, or rather their collection in one frame. On the walls, as well as on the table, there is a certain creative chaos whose location is well known to the author of the canvas and his pensive friend-writer.
Edward Mane's fear of dying in obscurity did not materialize, very soon the deserved fame came to him, and the portrait painted by Emile Zola began to be honored as one of the best in his portrait work even during his lifetime as the author himself and his main character.