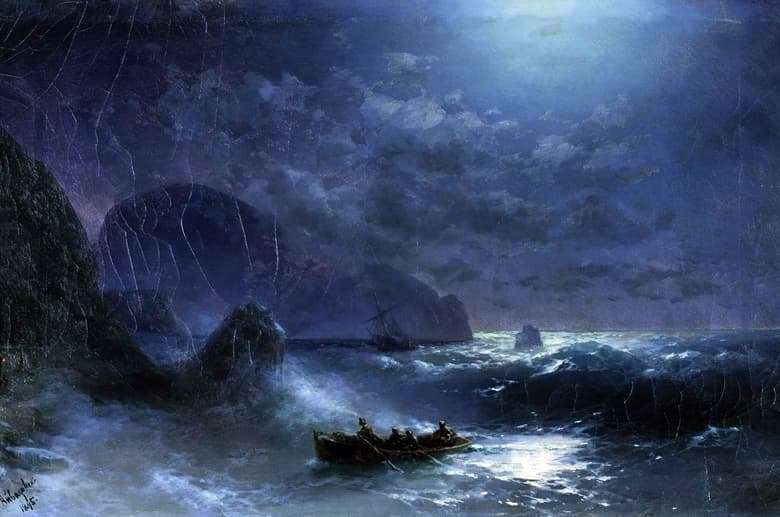 Another name: "Storm on the sea at night."
Year of creation – 1895, used canvas and oil. Size – 47 by 75 cm. Nizhny Novgorod State Art Museum, Nizhny Novgorod, Russia.
The disturbing and disturbing picture of an outstanding marine painter shows the violence of the elements in the cold light of an indifferent moon. It almost does not fall within the boundaries of the canvas, hidden at the top by clouds, but its presence is evident from the bright silver shine that spilled from above, from the glare of the rough, turbulent and dangerous sea off the coast of Gurzuf.
Serene in good weather, Gurzuf Bay with squally wind, during storms and fogs, became the most dangerous place for seafarers. Since ancient times, at the Cape Ayu-Dag, a powerful silhouette of which a huge towering in the background, crashed ships on the rocks. One of the sailboats, seeming so fragile and lost among the storm, darkens against the backdrop of the Bear Mountain. The ship lurched heavily, but perhaps the crew decided to leave it only temporarily. One of the boats is depicted close up, the four of the sailors have almost succeeded in reaching the saving coast, avoiding all dangers.
The painter uses a restrained palette with a predominance of dark – and gray-blue, ink and gray shades. He deliberately and carefully places light accents on the canvas: the strongest near the boat – emphasizes the difficult situation of people, slightly weaker near the rocky Adallar islet closer to the horizon – shows danger and draws attention to the ship. Highly billowing waves are deeply and carefully prescribed, which pose a threat in the dark, almost black depth. Great as if in a long exposure photo, myriads of salt splashes are broken to the left of the rock and painted on the left. Light strokes spelled clouds running across the sky, but their total mass is shown only by the transition from the dark cornflower to purple.