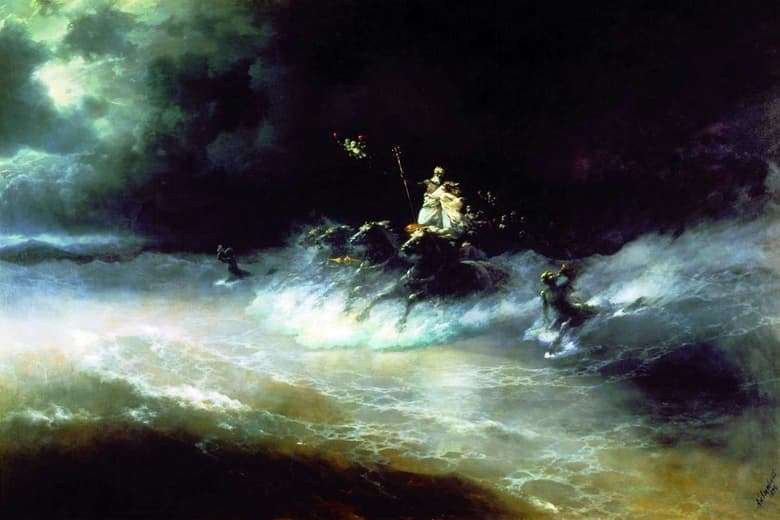 Completed in 1894 with oil on canvas, size – 212.5 by 318 cm. It is stored in the Feodosia Picture Gallery. IK Aivazovsky, Theodosius, Crimea.
The choice of such an epic story for the marine painter seems quite logical, even a little strange that he paid not so much attention to mythology, although many legends of the peoples of the world are connected with the sea. This work demanded from the master not drawing skills from life, but an extensive flight of fancy, it is obvious that he coped brilliantly.
Poseidon was considered one of the supreme gods of the ancient Greek Olympus, living in an underwater palace, commanding the element of water, he could open fresh and salty on land. On the canvas with his two hands he embraces his wife, Amphitrite, both dressed in traditional white togas, with golden laurel wreaths on their heads. They race, raising clouds of translucent whitish-blue splashes, on four of the black sea horses, accompanied by beautiful Nereids and mollusks. In his right hand, Neptune squeezes a trident, with whom he called a storm raging in the blackened sky and boiling water, but before him the waves humbly calm down. Beside the ornate chariot, the newts are trumpeting to the shells, heralding the approach of royal persons.
The entire canvas is permeated with the power of nature and divine greatness. With light and color, the artist placed the main emphasis on the shining master of the seas, who subordinates indomitable force to himself. The sky darkening with ink thunderclouds becomes for him a remarkable contrasting background. In the upper left corner, even a dazzling lightning strike, illuminating the clouds and adding drama to the picture. The brighter water space in the foreground is muddy and yellowish-gray with patches of turquoise-blue and white from a strong storm that has raised sand and algae.