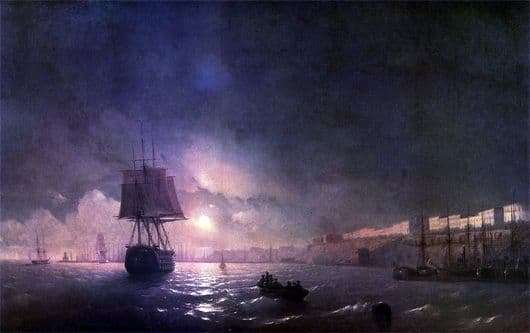 Having lived all his life by the sea, Aivazovsky could not help but glorify the beauty and power of this element. It was this artist that Odessa remembered, which he had never painted from life. Having drawn only a couple of sketches, a few months later the picture "View of Odessa on a moonlit night" was born.
On canvas, the plot looks the same style. On the right is a string of houses, which is poorly lit by light and merges with the general background, dissolving into the sea. The moon unusually bright yellow illuminates the sea surface and allows you to see everything that is around you, symbolizing a certain sun.
The dynamics of the picture as if calling forward, offering to find out that where the path of the moon is lit most brightly. To see the unknown and learn the secrets of the sea, what could be more interesting. As a true marine painter, Aivazovsky treated the sea with awe and reverence.
Odessa is a port city, whose life directly depends on the nature of the elements. From time immemorial, the Black Sea was considered inhospitable, evil and cold. There is a legend about the name. Sailors, lost in uncharted waters, fell into a violent storm that had not ceased for a long time. The water rose and fell, turning the edges into the black abyss. The team thought that the sea is always like this, and called the color of death and evil – Black.
The picture shows a warship that is experiencing rare moments of beauty that you may never see again. After all, the clouds that are above the light of the moon are condensing and becoming formidable, speaking of a quick battle and difficulties.
The plot is interrelated and not divided into its component parts. Each frozen figure in its posture carries a meaning. The color palette is soothing, but the red color in front makes you wonder what it is used for.
Perhaps this is a readiness for the new day, because all the boats also move to where the life of the city flows.