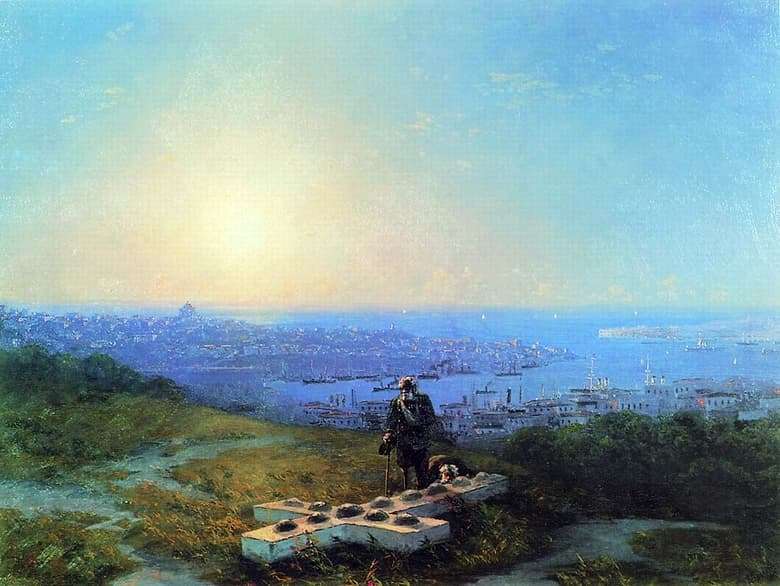 Year of creation – 1893, used canvas and oil, size: 71 by 84 cm. Located in the Feodosia Picture Gallery. IK Aivazovsky, Theodosius, Crimea.
The creation of this picture is devoted to an interesting story, written by the famous Soviet art historian L. A. Wagner. In 1892, Ilya Konstantinovich spent the winter in a small mansion in St. Petersburg and worked a lot with ecstasy, forgetting to eat. But about this he tried to remind the old janitor Panteley. Over time, they became friends, much discussed the defense of Sevastopol and other military events that were found by the former serviceman. It was he who gave the artist the idea to write this picture.
The strategic high ground covered with glory and selflessly defended by Russian soldiers went down in history during the Crimean War, and later the Great Patriotic War. However, from this point of view, Malakhov Kurgan makes a slightly different impression.
The stone cross was laid out of enemy nuclei, one of which brought the brilliant strategist Admiral V. A. Kornilov to the death on this very spot in 1854. Two aged veterans came to honor his memory. They have come a long way and only in the evening reached the desired place. One of them fell to his knees, the second stands, taking off his hat, and recalling the past battles, where he once lost his right leg. Aivazovsky secretly took the prototype of this man from Panteley. When the janitor recognized himself on the magnificent canvas presented at a large exhibition, he could not hold back the tears.
The painter with a brush caught the general atmosphere of light sadness and sadness, remember gravity lying on the shoulders of veterans. This is one of the few works where people are on the same level of significance with a common historical event or nature to communicate the idea. The detailed foreground is replaced by an impressive panorama of Sevastopol and its seaport. The bright, airy sky as if promises restful people to peace.