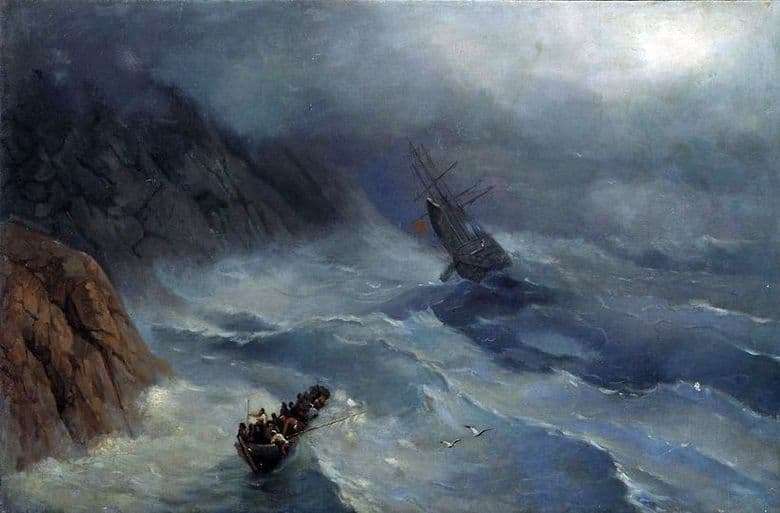 Aivazovsky – the most famous Russian marine painter. The sea was the true passion of the artist. He was born and grew up in Feodosia, and from the 6000 paintings he painted in his entire life, the sea is the main character in more than half. Even when the artist wrote plot, genre paintings – most often domestic scenes were just a pretext for writing the waves of the sea. Surprisingly, Aivazovsky actually did not work on nature. In nature, he made only sketches of his future paintings – and subsequently painted them in the studio.
Aivazovsky – one of the few Russian artists, widely recognized abroad. The incredible realism of the natural phenomena depicted by him conquered art lovers all over the world. The author was especially successful in the translucency of the waves and the movement of air masses. At home, the artist was often reproached for repetitiveness and monotony of plots, and exaggerated brightness and colorful paintings. But to this day his work remains one of the best-selling and most expensive. Aivazovsky's canvases are currently in the best museums of the world and are sold at auctions with record prices.
The painting "The Raging Sea" depicts a tilting ship, ready to crash about sharp rocks; the lifeboat has already separated from the vessel and is moving directly towards the viewer, granting salvation to numerous passengers. The rearing crests of waves crashing into boulders, agitated seagulls flying low over the wave, dark clouds covering the sun – all this together creates a disturbing feeling for the viewer. But at the same time the raging nature arouses delight with its strength and primitive beauty. In the distance, through the clouds, the sun shone slightly, giving rise to hope for peace after the storm.