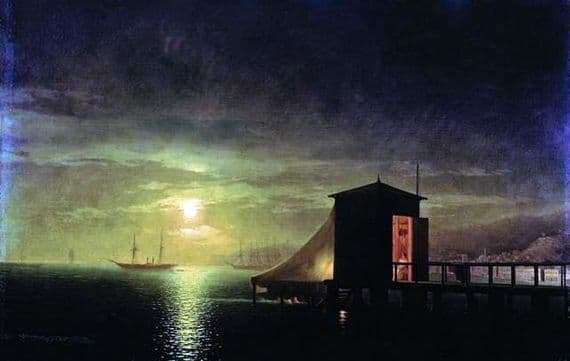 Aivazovsky is a famous Russian marine painter (that is, an artist who preferred the image of the sea), a battle painter and a collector. There is a legend that his great-grandfather was a Turk, and during the capture of Azov by Russian troops, he was adopted by an unknown Armenian who pitied him and baptized.
The truth of the legend is unprovable, but Aivazovsky's sensitivity to everything connected with the sea, his ability to use color for the most realistic transfer of real landscapes and his love for the world, which alone can write such vivid, clear and beautiful pictures, is obvious.
"Moonlight night. Bathhouse in Feodosia "is one of many paintings by which the artist sings the sea, admires him and gives other people the opportunity to look at him, the artist, with his eyes. It depicts a seascape – it has long been night, the sea is quietly rolling ashore by the surf and retreating.
Having lowered the sails, the ships sleep, the city sleeps in the distance, on the hills. The moon reigns on the world, floods it with its wrong, silvery-green light that reflects in the sea and colors the clouds so that near the moon they are as bright as the day sky. A small bathhouse appears on their background with a black silhouette. It has a pointed roof, and a warm orange light pours from the open door.
There is a woman sitting in the bathhouse, and as the moon is alone in the sky, so alone is she in this frozen sleeping world, full of the mystical glow of the night star. The woman's hands are folded on her knees, her black hair is tied into a bun, there is no fear on her face. In the silence of the night, she is only part of it, and parts need not be afraid of the whole.
The Queen-moon favorably poured light on the silent waves, and only softly creak tackle dormant ships, let the surf rustle, in the eternal rhythm of running into the shore and rolling away from him lazily and slowly.