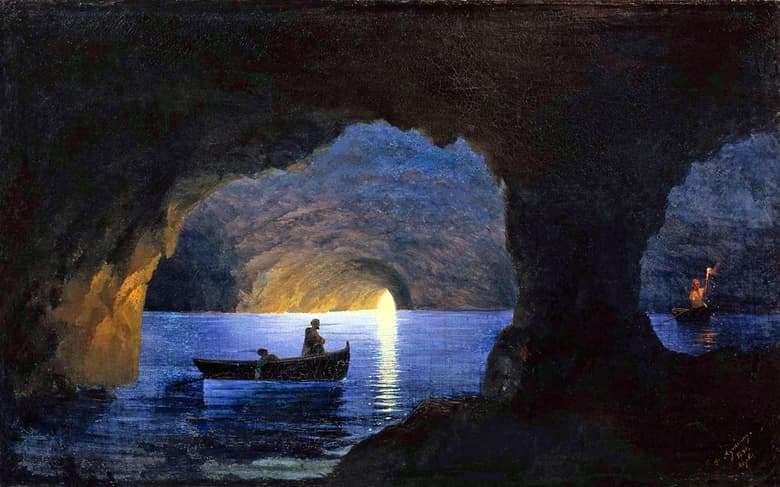 Written in 1841, used canvas and oil, size – 74 by 100 cm. Presented in the Donetsk Regional Art Museum, Donetsk, Ukraine.
In 1840, Ivan Konstantinovich set off on a long journey through the countries of Europe. And he spent a long time in Italy, especially in the south – in Sorrento. This trip greatly influenced the young artist, who enjoyed success with critics and buyers. As a result, he painted many paintings, containing not just the background, but the main component of the natural seascapes.
Today, the depicted wonder of nature is more known as the Blue Grotto, is located off the northern coast of the Italian island of Capri (province of Naples) and is unprecedentedly popular with tourists from all over the world. You can get into it only by water through a narrow passage from the sea. Having seen this picture, one can guess that for so many years that have passed since its creation, little has changed. But in the first half of the nineteenth century. Travelers did not go to the sea cave so often, although it was known about it from the first decades of our era.
The luxurious blue color of the water is due to the fact that the light, refracted and penetrating into the cave only through two holes (the underwater is larger in size), loses all the red rays of the spectrum. The natural splendor intrigued the author, and he decided to try to convey the beauty of this place in a romantic landscape. The sea is calm, but not uniform, the reflections from the entrance diverge on its surface, reflections from uneven arches play, sapphire and cobalt shades mysteriously fall. The texture of stone walls with all depressions is spelled out in detail, along which, gradually fading away, at first bright, yellow-orange sunshine spreads, turning into purple and dark blue. People on this background look frightened and insignificant, but they place the necessary accents and show the scale of the grotto.