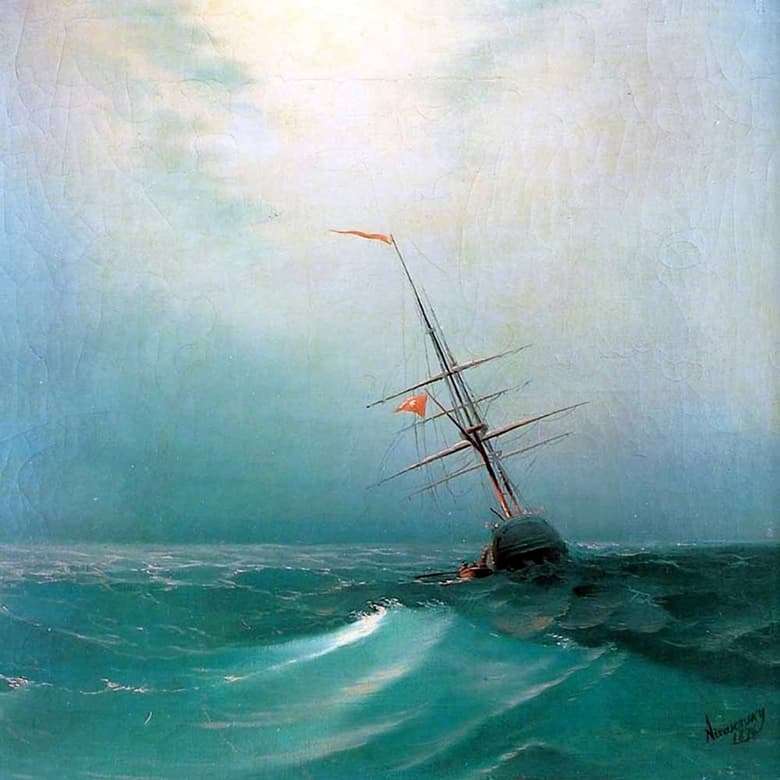 Written in oil on canvas in 1876. Size – 47 by 64 cm. It is in a frequent collection in Germany.
Many of the world's famous marineist works repeat his favorite story – a moonlit night over the sea and a proud lonely sailboat. However, each time the picture appears from a new perspective, with other nuances, details, mood… Aivazovsky himself said that he often repeats himself in his works in order to correct some flaws, often visible only to his outlook and unnoticed by others.
This canvas is quite light due to the bright glow of the full moon, flooding the sky in a bluish-milky veil with its illusory light. It can be seen how fast lightly layered clouds are rushing along it. Only to a distant horizon, the skies gradually darken to azure-gray with greenish hues. The same colors are repeated in the lower part of the canvas, only in a more saturated and deep version with the addition of turquoise and navy blue.
It is likely that the restless, striking in its color of the sea is written by a multitude of translucent layers of paint, which the artist gradually superimposed over the previous one. This made it possible to achieve the effect of depth and heterogeneity of color spots, which blend very smoothly with each other.
Particular attention is paid to the moonlight, which with cautious glare falls on the moving water and partially penetrates into its depth, illuminating with mysterious undertones. On the contrary, foamy breakers look tighter and brighter, emphasizing contrasts and long-term perspective.
Despite all its beauty, the elements are fraught with danger. I want to believe that the portrayed ship with fluttering red flags, which attract the eye, has already experienced a storm, and will be ready to raise sails soon to return to its native port.