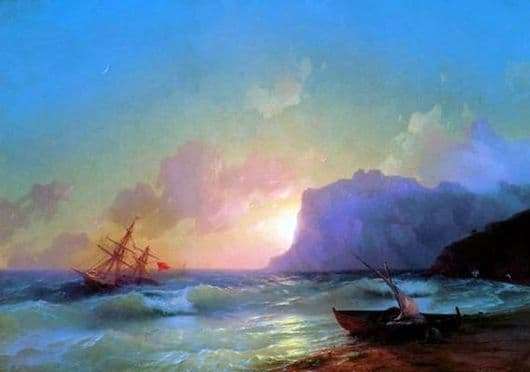 A picture of the famous marine painter Aivazovsky entitled "The Sea. Koktebel Bay "was written in the XVIII century in a realistic manner and is dedicated to the artist's homeland, its beauty and feelings, which is caused by its nature.
In general, the composition of Koktebel Bay is simple. The closest thing to the viewer is the boat, left by someone on the beach. Apparently a strong wind blows, because the sail of the fragile "pot", colored by the sunset rays, bends, trembles.
It seems that under the mast someone (or something?) Is lying: one can see a vague, dark figure of either the owner of the boat, or someone else.
Two cliffs add to the gloominess of the picture. From behind one of them the setting sun peeps out. Obviously, the night will come soon: the moon of the rising moon froze in the sky.
Skillfully painted sea rages – the ship strongly heels to the side, although the waves are not so big. Obviously, the tide has begun: the sand, visible to the viewer, seems to be wet. It may have rained: a part of the deep blue sky is covered with clouds that seem to go after the sun. Some people who are susceptible to changes in nature know that this is how often the world looks after a rainstorm at sunset.
After a long look at the picture, it may seem that the sea is moving and is already beginning to calm down, as if intending to fall asleep, getting ready for bed, beating up white-washed "pillows", hiding in a soft blanket of clouds (see how it pulls on its edge!). And then the sun will remind the viewer of a lamp that is about to be turned off, and the moon will seem like a nightlight that remains with the sleepy sea.
The picture is at first perceived as holistic: the accents are so skillfully arranged. Nevertheless, some details can capture the attention, because they tell some incredible, but still somewhat ordinary stories that occurred during the lives of Aivazovsky, in his homeland.