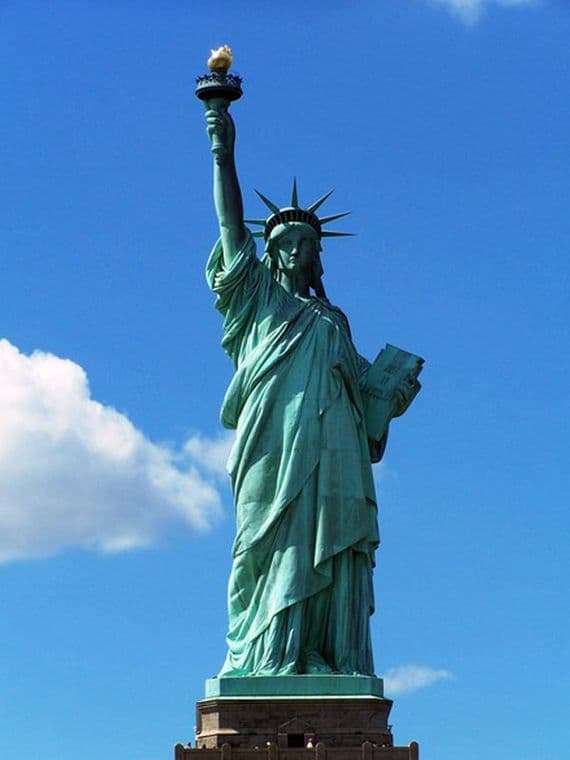 It was built in 1886 in honor of the French-American friendship. It is also a symbol of American freedom, a symbol of New York. The statue looks like a woman pulling a torch upwards. Work on the statue lasted about ten years.
This is one of the tallest statues in the world. Its height, together with the pedestal, is 93 m. The author is the sculptor Frederic Bartholdi. The weight of copper used for casting the statue is 31 tons. The whole steel structure weighs 125 tons, and the concrete base is 27 thousand tons. Gustave Eiffel (the author of the world-famous Eiffel Tower) and Maurice Kehlin built this statue. The statue is built so that inside the monument you can safely climb the stairs.
In the crown is an observation deck. To climb it, you need to overcome 354 steps. 25 windows are available for inspection. From there, the tourist will be able to see the excellent and unique harbor. The crown has seven rays. They symbolize the seven continents.
The very same figure of a woman made of expertly made sheets of copper. They are very strongly bred among themselves and form a silhouette known to the whole world. The statue is constantly being restored, modernized. So, recently it added elements of laser illumination.
It is also interesting that inside the pedestal, on which the statue is depicted, there is an interesting museum. It can be reached using the elevator.
The woman (Lady Liberty) holds a burning torch in her right hand and a tablet in her left. It is inscribed in Roman numerals on July 4, 1776. This is the day of the independence of the United States.
You can only get to this statue by water.
The statue belongs to the national monuments of the United States, and in 1984 the UN declared it, like the entire island, a cultural monument of universal significance.