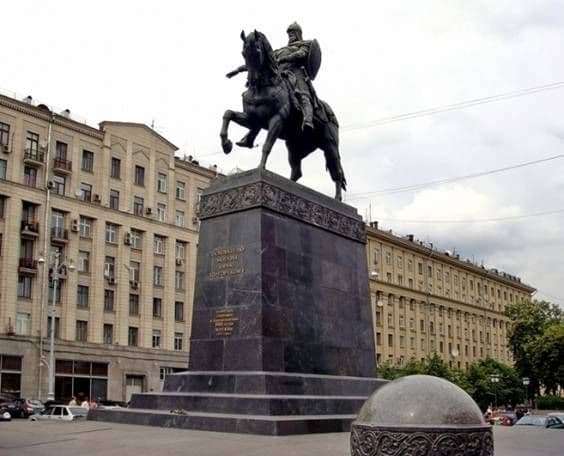 The monument to this historical figure is located on the Tverskaya Square in Moscow. This is one of the most controversial Moscow monuments in the city. It is also a hero of Moscow folklore, as well as an example of the art of the USSR of the early post-war period – the end of the 1940s – the beginning of the 1950s. The monument has the features of Soviet-style realism, as well as great attention to all minor details and decor. However, it is striking in its grandeur and grandeur.
Yuri Dolgoruky rightly considered the founder of Moscow. By tradition, in 1947, the city's eight-hundredth anniversary was celebrated on a huge scale. Particular attention was paid to the founder of the capital. So it was decided to build a monument to the founder of the capital.
The author of the monument is the master of plastics and ceramics S. Orlov. The monument is literally to the styles of ancient architecture. A monument was built for seven years. The long-term construction was due primarily to the fact that it was in that year in which the construction of the monument began that it was decided to build Stalin's skyscrapers.
Interestingly, an inscription was originally planned on this monument, which would mention the fact that the sculpture was erected thanks to the care of the Soviet government. However, the author insisted that such an inscription was not. So before us is almost the only case where the monument does not reflect the ideology prevailing at that time. But from this he did not become worse.
This monument is a deserved symbol of the capital. He experienced different epochs and different attitudes towards himself – from respectful to disapproving. However, now his image is distributed on many greeting cards and souvenirs, and all the memorable events for Moscow take place right next to this monument. This gives all the solemn events some highlight.