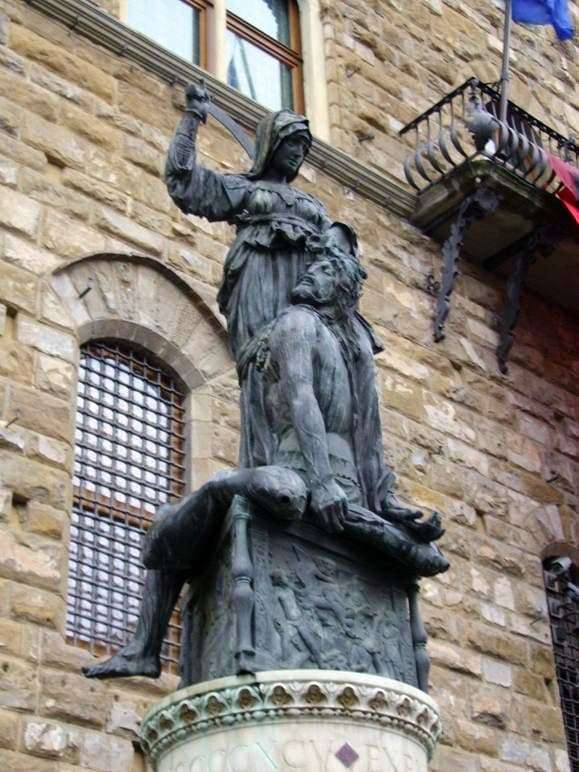 Donatello created an excellent work called Judith and Holofernes. At first, this sculpture was implied for the Medici Palace, but after the republic was declared, the palace was plundered, the work was moved to the Signoria Square.
If you consider this sculpture in terms of composition, it is incredibly complex. Moreover, its expressiveness was much higher than other works of the master. By the way, it contains the personal signature of the master. Donatello had never done such a thing before, but most likely, he himself was so satisfied with his work that this time he simply decided to sign it.
Judith has rather small proportions, a modest figure, she looks very fragile. Judith raised her sword over her head and froze, looking into Holofern's eyes. In turn, Holofernes, is completely defeated not only by Judith, but also by the wine from which he became completely relaxed.
Judith's aloof and stern look is in fact capable of instilling fear in any viewer. And this is taking into account the fact that, in general, the entire composition lacks sufficient convincingness, but whatever it is, it is worth noting that this idea is truly amazing.
Separately, it is worth noting how precisely the head of Judith is executed. She is a unique creation of the Early Renaissance. This face is the most expressive. At the same time, it is majestic and not without beauty and beautiful lines. Remarkable is the fact that this female figure embodies the courage and courage that God presents to everyone who really needs his help.
As for drunken Oloferon, his image produces just the opposite feelings, which, out of despair, puts its head under the deadly sword. A unique composition that shows two such opposite worlds.