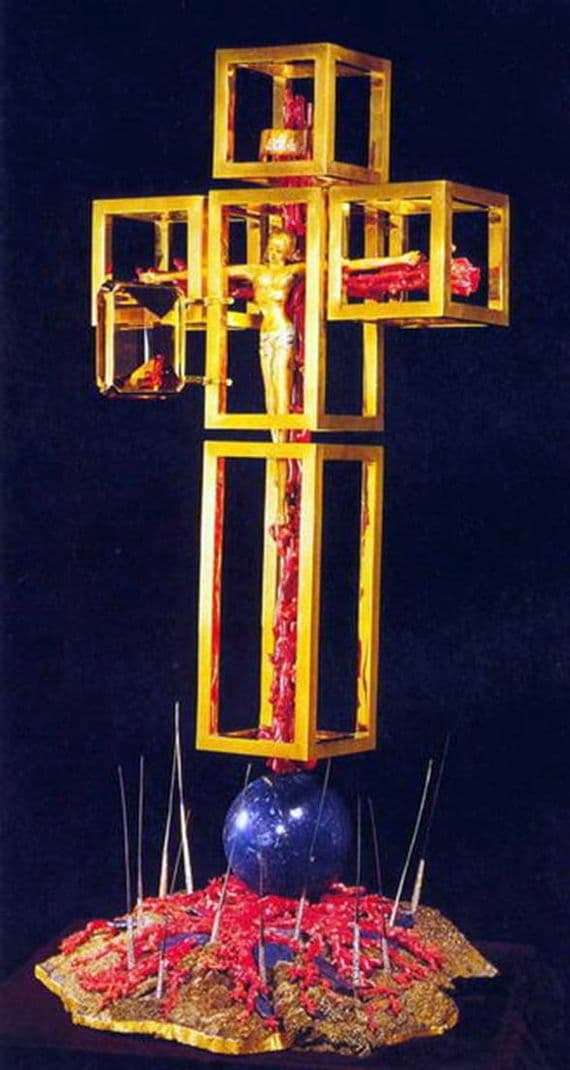 Salvador Dali – a versatile genius who was not peculiar shyness. Artist, graphic artist, director, sculptor, writer, surrealist. He wrote several books, participated in the filming of several films, wrote many pictures that are still being discussed – because they are made in the style of surrealism, it can sometimes be difficult.
He also engaged in the creation of installations of precious stones, arguing that he does this so that the value of the image embodied through them begins to prevail over the value of metal and stone. To even semiprecious materials gained shine and attracted attention.
However, in spite of the goal, installations in most cases were made of expensive materials.
The Angel's Cross is made of gold – the cage and figure of Christ; coral – the cross itself; copper sulfite and diamond spikes – base; lapis lazuli – sphere; topaz – the door. It is a cross enclosed in a golden cage, repeating its shape, with the door open. The base is located under the cross – a dark blue sphere is drowned in the middle of it, with sharp spikes around it.
The fact that the cross is carved out of coral creates a feeling of blood flowing to the base. The fact that the base is made of copper gives the impression that blood is accumulating in it. The whole world, a cruel world full of sharp – that is what the foundation is.
The sphere lies in it alone, embodying its beautiful part, which deserves to suffer for it on the cross. The cell surrounding the cross and the figure of Christ is open – at any moment the Savior can come out of it, descend from the oozing tree and go to heaven, to eternal bliss.
But in spite of the open door, he does not do that – because the world is not only sharp thorns and his blood, but also a dark sphere that you can stare at forever. This is the meaning and truth, and good human actions, and memory, and love.
Without moving on the cross, Christ suffers at will. Because the world is worth suffering for it.