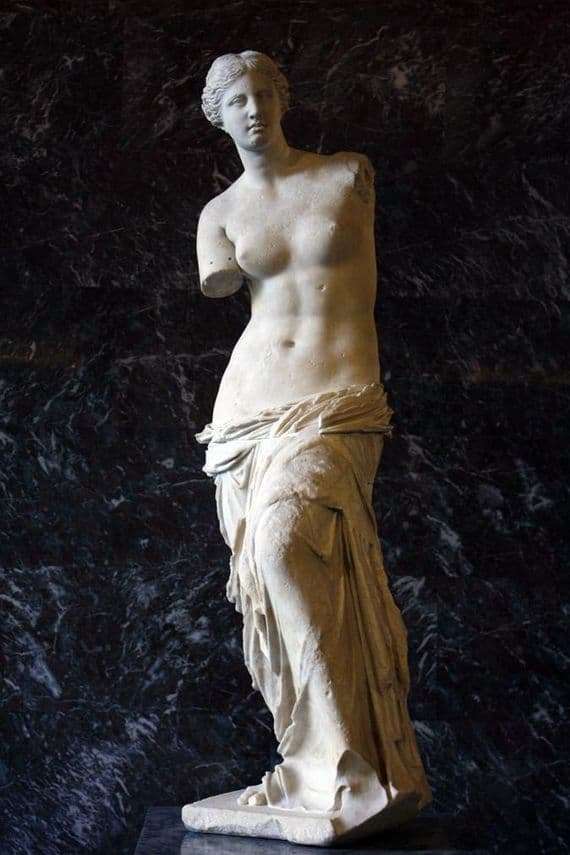 In the history of art there are not so many sculptures that instantly gained popularity. The widely revered statue of Venus de Milo is one of them.
Venus in ancient Roman mythology was originally the goddess of spring and flowering; belonged to the ancient Italian gods. Later, Venus became revered as the goddess of love and beauty, which was captured by the Greek sculptor Agessander in the 4th century BC. Named Milosskaya after the island on which it was found, the sculpture became the darling of the public and took pride of place in the Louvre in the early 19th century. The masterpiece had to be fought for, and while the sides were resolving the issue in a fight, the statue lost both hands, but it didn't become less attractive. Rather, the opposite has acquired a certain charm.
Sculpture fascinates plasticity and grace. The master presented a young half-naked goddess before us, giving him the opportunity to enjoy her slim body. Smooth lines of the body, perfect breast shape, emphasized waist and rounded hips – subtle beauty is so exciting that it is difficult to look away.
Roman sculptors with great realism imprinted their ideals in marble. The cult of beauty of the body made them choose flawless forms. However, despite the admiration for youth, the sculpture is quite simple and true. The hairstyle is carefully transferred, and a toga falling on the hips, which the maiden did not have time to catch. Instant, and charming forms appeared to the world. The facial features are inspired and as if penetrated by the rays of the sun. Venus's face is feminine, beautiful, filled with serenity and warmth.
Venus gives each fan an eternal youth through love – a great creative power. Her beauty enchants, conquers, intoxicates. It soars above the earth, transforming an overcast day, turning a pale lake into a crystal circulation, and the foliage instantly acquires strength, giving the world fragrance and intoxicating scent of ether.